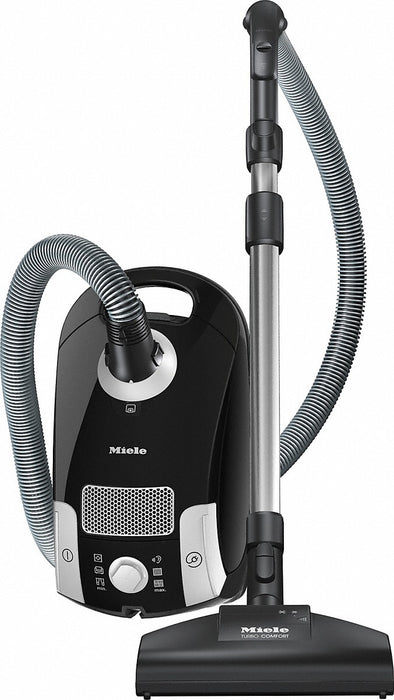 Miele Turbo Team Compact C1 Canister Vacuum Cleaner SCAE0
Miele Turbo Team Compact C1 Canister Vacuum Cleaner is available at Capital Vacuum in our Raleigh and Cary NC stores, or we can deliver it direct to your door.
Miele Turbo Team Compact C1 Canister Vacuum Cleaner Features and Benefits:
Power – Motor: 1200-watt, high-output, low-noise, Miele-made Vortex Motor System™
Speed Control: - Suction control via rotary dial, 6 variable power settings
Filtration System: AirClean Filter (1 included), 3.7 quart Type FJM AirClean dustbag with flap for dust-free removal (1 included), and pre-motor filter (1 included)
Tools/Accessories:
STB205-3 - Turbo Powerbrush

SBBParquet-3 – Parquet Floor Tool

Non-Electric Hose

Lightweight Telescopic wand

Synthetic Bristle Dusting Brush

Upholstery Nozzle

Crevice tool

VarioClip which attaches the tools to the hose
Additional Features:
Canister Construction - 12-stage AirClean Sealed System to keep the dirt inside the vacuum

Impressive 29.5-foot operating radius

Dustbag change indicator

Safety shut-off on overheating

Silence insulation

Special alignment of motor, cable reel and dust compartment for advanced stability
Unit Color: Deep Black
Dimensions (H x W x L): 9" x 10" x 17"
Recommended for: Low pile carpeting and smooth flooring
Introducing Compact C1 Turbo Team, a premier canister vacuums in the Compact series. With this line of canisters, Miele continued using the amazing design of their Vortex motor. Weighing under 10 pounds, and constructed with the famous Miele AirClean Sealed System, the Miele C1 Turbo Team, stands out as an exceptionally quiet machine, but with the same great cleaning capability and filtration for which Mieles are renowned. Miele's patented Original Sealed System takes HEPA certification one step further. Each individual compartment and the system as a whole are sealed with one continuous, durable rubber gasket, so particulate matter is trapped in Miele's disposable AirClean filtering dustbag. The Compact C1 Turbo Team Canister comes standard with the AirClean filter with an optional upgrade to either the Active AirClean or HEPA AirClean filters for maximum filtration.
Miele is the largest family owned floor care manufacturer in the world, with over a million vacuum cleaners leaving their Biefeld, Germany factory every year. Like the other Mieles in the Compact C1 series, the Turbo Team has an amazing cleaning radius of 29.5 feet. The C1 Turbo Team comes with the STB205-3 Turbo powerhead for cleaning your low-pile carpeted areas and the SBBParquet-3 Parquet Floor Brush for cleaning smooth flooring. 
Miele Compact C1 Turbo Team Overview
Miele vacuum cleaners are purposefully designed to be aesthetically pleasing. Every curve, every angle, every color is chosen so that customers will appreciate the way their Miele vacuum looks. But with Miele, beauty isn't just skin deep. Miele produces high quality machines with powerful motors, great filtration, silence insulation for quiet operation, and all the tools you need for cleaning your home.
With a Rotary Dial to regulate suction, you can easily move from flooring to upholstery to draperies. Six power levels move you from 1200 all the way down to 300 watts for every cleaning need. Easy to understand graphic symbols will guide you to choose the right power level for each cleaning surface.
The redesigned 1200 watt Miele made Vortex Motor guarantees power, high output, years of use, and the quietest Miele vacuum today. The vacuum casing is made of high quality and durable ABS plastic, the same material used to make professional football helmets. In fact, Miele offers a 7-year warranty on their vacuum casing.
The Miele Compact C1 Turbo Team vacuum is designed for smooth flooring, area rugs, and low pile carpeting. This Miele comes with the STB205-3 Turbo Power Brush for cleaning carpet and the SBBParquet-3 Parquet Floor Brush for cleaning smooth flooring.
Miele Compact vacuum cleaners have exceptional maneuverability with three smooth running 360 degree castor wheels. Mounting them on steel axles guarantees stability and maneuverability. The travel ramp design lets you move your vacuum easily over thresholds and around obstructions.
When you need to take a short break to answer the phone or door, Miele's convenient park system allows you to insert the wand and floor tool into the park system on the back of the vacuum. You don't need to rest your wand against the wall or lay it on the floor ever again. Just park it and come back when you are ready to start vacuuming again.
Not all vacuums are created equal. Miele's R&D and Quality Control laboratories have been working for 80 years perfecting the "sealed system" to reduce indoor air pollutants. The Miele Compact features the Exclusive Miele 12-stage AirClean Sealed System which utilizes a 3.7 quart capacity AirClean filter bag with a spring loaded self-sealing collar and the exceptional AirClean filter which significantly improves the air quality of your home by reducing allergens in the air. While many vacuum cleaners today promise to remove allergens from the air completely, only Miele's AirClean Sealed System® has been proven by independent laboratory tests to be over 99.9% effective in capturing and containing pollens, dust mites, pet dander and other irritants known to trigger allergy and asthma symptoms. Customers have an option of upgrading to an Active AirClean or Active H.E.P.A filter for even better filtration. See "Related Items" to purchase one of these upgraded filters.
And no need to worry about when to change the bag. A change bag indicator will tell you when the bag has reached the point of needing to be replaced.
The Turbo Team Compact C1 comes with a long cord and cord rewind, simply by the touch of a footswitch. Combined with the hose and wands, you'll have an operating radius of 29.5 feet. 
The Miele Compact C1 Turbo Team vacuum comes equipped with a 70 inch poly foam flexible suction hose for advanced ability to follow, advanced stability, and a higher durability. The Onyx also comes with a fully integrated set of attachments.
Never go looking for those lost vacuum accessories again. Miele's well designed Vario Clip attaches to the hose and holds your tools for convenient, easy access. Accessories include a crevice nozzle for hard-to-reach spaces, an upholstery tool for sofas and curtains, and a dusting brush for baseboards and ledges.
It is no wonder Miele's German-engineered machines have become a favored choice of consumers. This vacuum is able to be shipped out immediately with FREE AIR shipping.
Model: Miele Turbo Team Compact C1 Canister Vacuum Cleaner SCAE0
Have questions? Call 1-800-662-8745 • M-F 10am-5pm, Sat 10am-3pm, EST
Miele Turbo Team Compact C1 Canister Vacuum Cleaner Capital Vacuum Raleigh Cary NC
The best vacuum cleaners, central vacuums, carpet cleaners, steam cleaners, air purifiers, vacuum bags, filters, belts, parts, home fragrance products and cleaning supplies are at Capital Vacuum Floor-Care World 1666 North Market Drive in Raleigh NC (919) 878-8530 and 209 E Chatham Street in Cary NC (919) 467-2834. Family-owned since 1953. Be smart, buy where you get local service!