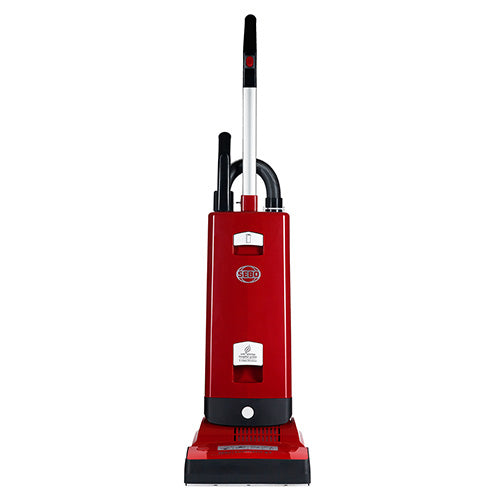 Sebo X4 Upright Vacuum 9558AM Red
Sebo X4 Upright Vacuum 9558AM Red is available at Capital Vacuum in our Raleigh and Cary NC stores, or we can deliver it direct to your door.
The AUTOMATIC X is the world's most technically advanced and uniquely easy-to-use vacuum cleaner! The 12-inch X4 features a truly automatic height adjustment, using an electronic controller that measures the resistance of the spinning brush roller against the floor to signal up or down adjustments, which ensures optimal performance on both carpets and hard floors. The user is also alerted to clogs, a worn brush, or a full bag, and the vacuum automatically shuts off when brush obstructions occur to protect the motor and belts from damage. The X also has an instant-use cleaning wand and suction hose, a lifetime belt warranty, tool-free brush roller removal, a 40-foot power cord, and three on-board attachments.
Designed and Manufactured in Germany
The World's Best Pet Vacuums
Excellent for Users With Allergies or Asthma
Tightly Sealed Hospital-grade Filtration
Reliable, Commercial-grade Components
Rubber Wheels and Bumpers Protect Homes
High-tech Brush Roller Technology
Changing Bags is Easy and Clean
Save Money! SEBO Vacuums Last for Years
Free Warranty Coverage
Twelve-inch Power Head Width
Three On-board Tools Included: Dusting Brush, Crevice Nozzle and Upholstery Nozzle
Instant-use Wand and Suction Hose
A Low 5 1/2-inch Profile
Automatic Height Adjustment: From Hard Floors to Carpets
Brush Adjustment Indicator Lights
Brush Obstruction Light with Automatic Shut Off
Worn Brush Light. Easy Brush Removal and Cleaning
Stationary Use Light
Bag Full or Clog Light with Automatic Shut Off
Combination Carrying Handle with Rotating Cord Hook
Large Filter Bag
Forty-foot Cord
Easy Maintenance
Hospital-grade Filtration for Allergy and Asthma Relief
Excellent Pet Vacuum . . . Highly Effective Pet Hair Removal
Five-year Warranty with Lifetime Belt Warranty
Have questions? Call 1-800-662-8745 • M-F 10am-5pm, Sat 10am-3pm, EST
The best vacuum cleaners, central vacuums, carpet cleaners, steam cleaners, air purifiers, vacuum bags, filters, belts, parts, home fragrance products and cleaning supplies are at Capital Vacuum Floor-Care World 1666 North Market Drive in Raleigh NC (919) 878-8530 and 209 E Chatham Street in Cary NC (919) 467-2834. Family-owned since 1953. Be smart, buy where you get local service!