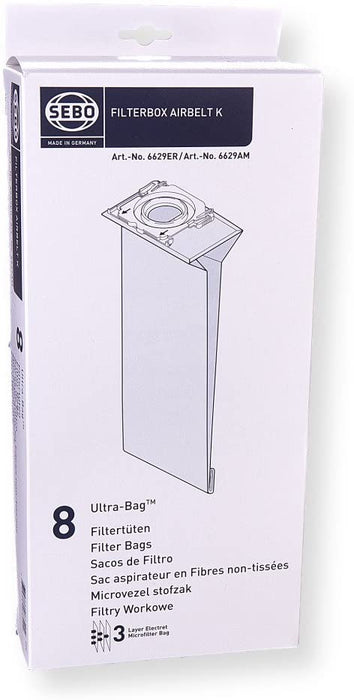 Sebo Vacuum Bags K3 Canister 6629AM - 8 pk dustbags
Sebo Vacuum Bags K3 Canister 6629AM - 8 pk vacuum bags are available at Capital Vacuum in our Raleigh and Cary NC stores, or we can deliver them direct to your door.
Sebo Vacuum Bags are Better! – Top-fill, three and four-layer Ultra Bags are an integral part of SEBO's filtration system because they hold virtually all the dirt captured by the vacuum, which improves the effectiveness and useful life of the microfilters. They also ensure continuously strong suction because dirt enters from the top, deposits at the bottom, accumulates upward, and air exits through the sides, which allows unimpeded airflow as they fill to capacity And they can be tightly sealed with a hygiene cap when full, so no dust can escape into the air during bag removal and disposal.
In contrast, without bags to hold nearly all the captured dirt, the microfilters on bagless vacuums quickly clog from excessive dirt build-up and must be replaced often, or a loss of suction and cleaning effectiveness will occur. In addition, dust and other allergens become airborne when emptying bagless dirt containers. Lastly, bagless vacuum microfilters are expensive, usually costing more than a multi-year supply of SEBO filter bags.
Changing Bags is Easy and Clean – SEBO filter bags can be changed in just a few seconds, and a hygiene cap keeps dust sealed inside during removal and disposal.
Includes 8 dustbags. Item 6629AM. Sebo Vacuum Bags K3 Canister Vacuum Bags. Raleigh, Cary NC.
The best vacuum cleaners, central vacuums, carpet cleaners, steam cleaners, air purifiers, vacuum bags, filters, belts, parts, home fragrance products and cleaning supplies are at Capital Vacuum Floor-Care World 1666 North Market Drive in Raleigh NC (919) 878-8530 and 209 E Chatham Street in Cary NC (919) 467-2834. Family-owned since 1953. Be smart, buy where you get local service!