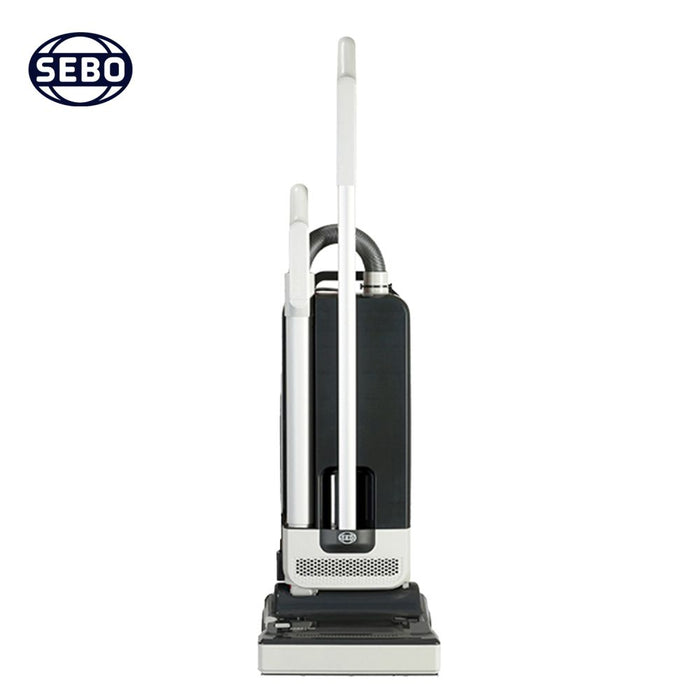 Sebo Mechanical 300 Commercial Upright Vacuum 91303AM
Sebo Mechanical 300 Commercial Upright Vacuum 91303AM is available at Capital Vacuum in our Raleigh and Cary NC stores, or we can deliver it direct to your door.
Made in Germany, the MECHANICAL series are commercial-grade upright vacuum cleaners that provide the utmost in reliability, durability and cleaning effectiveness! To maximize durability, these vacuums are entirely mechanical, instead of electronic. In addition, all electrical components are located in the power head, with none in the bag housing or handle, thereby minimizing electrical connectors and further improving reliability. This also means that the on/off switch is located on the power head, and the user's foot easily operates it. Plus, the power cord is externally located, which allows instant, tool-free removal and replacement. All this, along with simple access to most machine parts, means that maintenance is quick and easy.
The 300 MECHANICAL was designed to clean carpets, perform well on most hard floors, and have superb pet hair removal! They have a convenient instant-use cleaning wand and suction hose with an eight-foot reach and three on-board tools. The four-level manual height adjustment can be conveniently changed with the aid of the cleaning wand. Plus, the machine turns off automatically and gives user notification when a brush roller obstruction occurs, which protects the belts and carpets from damage. There is also user notification when a full bag or clog occurs. Additional features include excellent filtration, a giant 1.4-gallon bag, 39-foot cord, protective rubber-coated wheels, a 12 inch wide cleaning path, a low 5 ½-inch horizontal cleaning profile that fits under beds and furniture, and tool-free brush strip removal for bristle cleaning or replacement.
Designed and Manufactured in Germany
The World's Best Pet Vacuums
Excellent for Users With Allergies or Asthma
Tightly Sealed Hospital-grade Filtration
Reliable, Commercial-grade Components
Rubber Wheels and Bumpers Protect Floors & Furniture
High-tech Brush Roller Technology
Changing Bags is Easy and Clean
Save Money! SEBO Vacuums Last for Years
1 Year Warranty Coverage
Have questions? Call 919-878-8530 or 919-467-2834 • M-F 10am-5pm, Sat 10am-3pm, EST
The best vacuum cleaners, central vacuums, carpet cleaners, steam cleaners, air purifiers, vacuum bags, filters, belts, parts, home fragrance products and cleaning supplies are at Capital Vacuum Floor-Care World 1666 North Market Drive in Raleigh NC (919) 878-8530 and 209 E Chatham Street in Cary NC (919) 467-2834. Family-owned since 1953. Be smart, buy where you get local service!