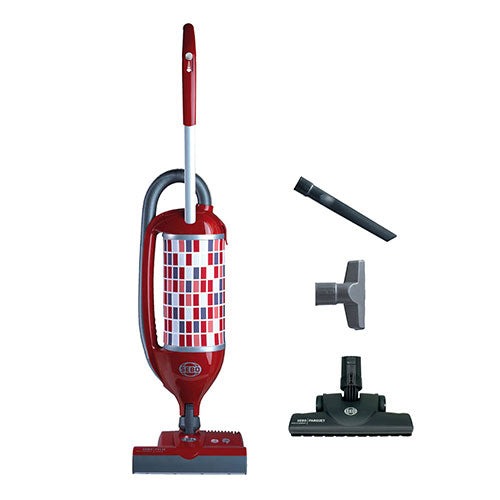 Sebo Felix Premium Upright Vacuum 9809AM
Sebo Felix Premium Upright Vacuum Cleaner 9809AM is available at Capital Vacuum in our Raleigh and Cary NC stores, or we can deliver it direct to your door.
The stylish FELIX offers all the flexibility of canister vacuums, but in upright configurations! It also includes two on-board attachments, a convenient instant-use suction hose, an ultra-modern filtration system, and a detachable suction unit that can be used as a hand-held vacuum, or even morph into a hard-floor polisher by attaching SEBO's DISCO head.
The power head feature excellent pet hair removal, four-level height adjustment, carpet and hard floor cleaning ability, tool-free brush roller removal, manual brush roller shut off that enables straight-suction cleaning, and an L-shaped contour that makes cleaning under counters easy! It even has a warning light that illuminates to notify users when brush height is set too high for optimal performance, its bristles are worn, or when automatic shut off occurs due to brush roller obstructions.
Importantly, however, the FELIX has some additional features such as 180° steering ability, variable suction control with soft start, a hard-floor parquet brush attachment, adjustable handle height, and automatic brush roller shut off when using the integrated suction hose.
Twelve-inch Power Head Width
Included: ET-1 Power Head, Premium Parquet Brush, Crevice Nozzle and Upholstery Nozzle
Instant-use Suction Hose
A flat-to-the-floor 6-inch Profile
Four-level Manual Brush Height Adjustment
Brush Obstruction Light with Automatic Brush Shut Off
Incorrect Height Setting or Worn Brush Light
Easy Brush Removal & Cleaning
Manual and Automatic Brush Shut Off
Variable Suction Control on Handle with Soft Start
Three-level Adjustable Handle
Full Bag or Clog Indicator
Detachable Suction Unit Creates a Hand-held Portable Vacuum
Innovative Exhaust Filter . . . Design and Functionality
Hospital-grade Filtration for Allergy and Asthma Relief
Excellent Pet Vacuum . . . Highly Effective Pet Hair Removal
Five-year Warranty
Have questions? Call 1-800-662-8745 • M-F 10am-5pm, Sat 10am-3pm, EST
The best vacuum cleaners, central vacuums, carpet cleaners, steam cleaners, air purifiers, vacuum bags, filters, belts, parts, home fragrance products and cleaning supplies are at Capital Vacuum Floor-Care World 1666 North Market Drive in Raleigh NC (919) 878-8530 and 209 E Chatham Street in Cary NC (919) 467-2834. Family-owned since 1953. Be smart, buy where you get local service!