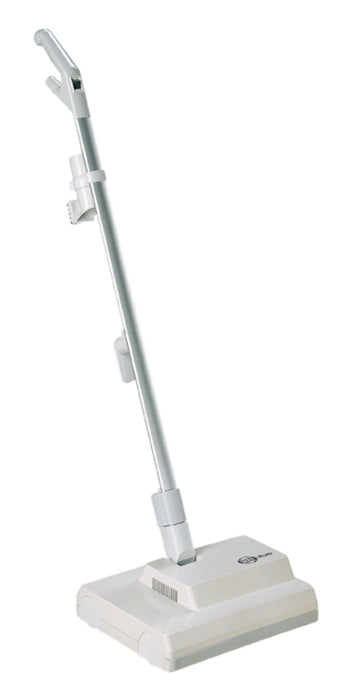 Sebo duo Carpet Cleaner 9401AM
Sebo duo Carpet Cleaner 9401AM is available at Capital Vacuum in our Raleigh and Cary NC stores, or we can deliver it direct to your door.
Made in Germany, SEBO's duo Cleaning System brilliantly cleans carpets in large or small areas, and it effectively removes all types of spots and stubborn stains from upholstery and carpets. The duo Brush Machine and cleaning powder are designed for large carpeted areas, while the duo Daisy, the Hand Brush and powder are designed to clean smaller areas, such as stairs, entryways, hallways, spot stains, automobiles, RVs and boats. This do-it-yourself system is highly effective, easy to use, saves time and money, and avoids the potential carpet damage caused by some wet cleaning methods.
The advantages of using the duo dry-cleaning system are the elimination of dust mite allergens, no need to move furniture, no detergent residue, a built-in fiber protector that helps to prevent future stains and soiling, and the ability to use the carpet or upholstery within 30 to 60 minutes after cleaning is completed.
The duo Cleaning System consists of the following four components: 1) duo-P Carpet and Upholstery Cleaning Powder, 2) duo Brush Machine, 3) duo Daisy Brush and 4) duo Hand Brush.
14-inch Head Width and a Brush Path of 12 1⁄2 inches
A Room or Entire House of Carpet Can be Quickly Cleaned
Two Spinning Brushes Open the Carpet Pile, Enabling the duo-P Powder to Clean Each Fiber
The Handle Can Be Disconnected from the Brush Head for Portability and Storage
Weighing Only 11 pounds, It is Lightweight and Easy to Use
Forty-foot Cord
Easy Maintenance
Five-year Warranty
Duo-P Powder Cleans Carpets and Upholstery and Removes Stubborn Stains
Eliminates Dust Mite Allergens
Leaves No Detergent Residue and No Pre-spray is Needed
A Built-in Fiber Protector Helps to Prevent Future Stains and Soil
The duo Daisy Brush is Great for Cleaning Small and Medium-size Areas
The duo-P Hand Brush Cleans Stairs, Including the Carpet & Upholstery in Cars, Boats & RVs
Have questions? Call 1-800-662-8745 • M-F 10am-5pm, Sat 10am-3pm, EST

The best vacuum cleaners, central vacuums, carpet cleaners, steam cleaners, air purifiers, vacuum bags, filters, belts, parts, home fragrance products and cleaning supplies are at Capital Vacuum Floor-Care World 1666 North Market Drive in Raleigh NC (919) 878-8530 and 209 E Chatham Street in Cary NC (919) 467-2834. Family-owned since 1953. Be smart, buy where you get local service!