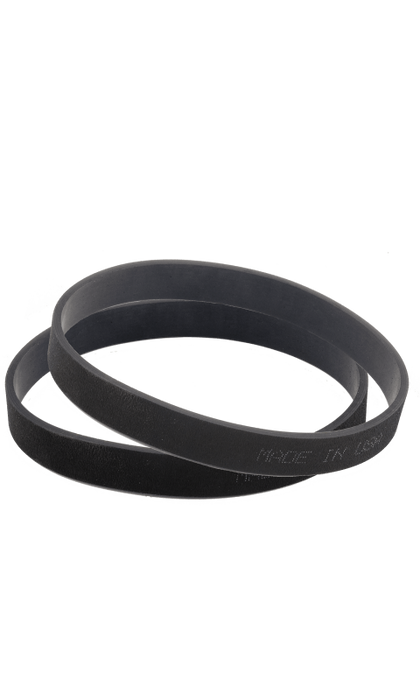 Riccar Vacuum Belt Supralite - 2 pk Flat Belt ULW-B2
Riccar Vacuum Belt Supralite - 2 pk Flat Belts ULW-B2 are available in our Raleigh and Cary NC stores, or we can deliver them direct to your door.
These Genuine Riccar Supralite Vacuum Belts keep the brush roller turning at maximum speed for optimal dirt pickup and deep cleaning.
We recommend changing your belt every 3 to 6 months for best performance. Also, we recommend replacing your vacuum's brush roller or brush strips (depending on model) every 2 years (as the brushes wear down over time, and with vacuum usage, you lose cleaning performance). It's an inexpensive way to keep your vacuum working at it's best.
This belt replaces R20B-2 and RBS-2 packages and fits these vacuum cleaners:
Cordless SupraLite R10CV
SupraLite R10 Series including R10E, R10S and R10D models
SupraLite R10 patriotic USA models
SupraLite RSL1, RSL3 and RSL4 models
SupraLite RSL patriotic USA models
SupraLite RSL1AC and RSL3C models
Prima Tandem Air Deluxe Power Nozzle
Volt electric power nozzle
Includes 1 pk of Riccar Supralite Vacuum Belts. Item ULW-B2. Genuine Riccar Vacuum Belt Supralite Vacuum Belts. Raleigh, Cary NC.
The best vacuum cleaners, central vacuums, carpet cleaners, steam cleaners, air purifiers, vacuum bags, filters, belts, parts, home fragrance products and cleaning supplies are at Capital Vacuum Floor-Care World 1666 North Market Drive in Raleigh NC (919) 878-8530 and 209 E Chatham Street in Cary NC (919) 467-2834. Family-owned since 1953. Be smart, buy where you get local service!