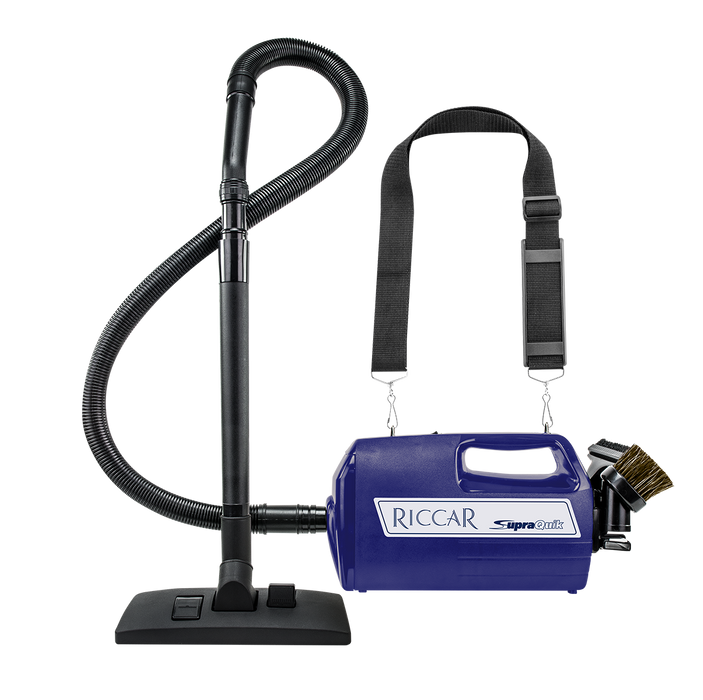 Riccar Supraquik Portable Canister Vacuum
Riccar Supraquik Portable Canister Vacuum is available in our Raleigh and Cary NC stores, or we can deliver it direct to your door.
The SupraQuik is a portable canister vacuum that's perfect for cleaning bare floors, stairs, rugs and autos.
The SupraQuik comes with an odor absorbing charcoal filter and twin ply electrostatic bag and shoulder strap. Regular size tools, two wands and a combination floor tool make cleaning, bare floors, furniture, stairs and vehicles fast and easy. The floor tool features a swivel neck and a switch to go from cleaning bare floors to area rugs. Turn the machine and use the exhaust port as a blower or to inflate. The SupraQuik RSQ1 includes:
55-inch crushproof hose
Two 18.5-inch plastic wands
5-inch crevice tool
Nylon bristle dusting brush
Crimped nylon upholstery brush
90-degree angle adapter
10.5-inch floor tool with side and edge cleaning, metal base plate, nylon bristles and all sides, and a rug/bare floor switch
Tool holder that attaches tools to the canister body
Bonus 7-piece micro tool kit is included with an adapter, flexible hose and mini tools.
Bonus Tools - Extra accessories help you clean more with the same vacuum.
Blower Port - Attach the hose to the exhaust port to use as a blower and inflator.
Portable Power - Less than five pounds makes it easy to carry as you clean, or set it down to use the hose and tools.
Have questions? Call
1-800-662-8745 
• M-F 10am-5pm, Sat 10am-3pm, EST
The best vacuum cleaners
, central vacuums, carpet cleaners, steam cleaners, air purifiers, vacuum bags, filters, belts, parts, home fragrance products and cleaning supplies are at
Capital Vacuum Floor-Care World
1666 North Market Drive in Raleigh NC (919) 878-8530 and 209 E Chatham Street in Cary NC (919) 467-2834. Family-owned since 1953. 
Be smart, buy where you get local service!