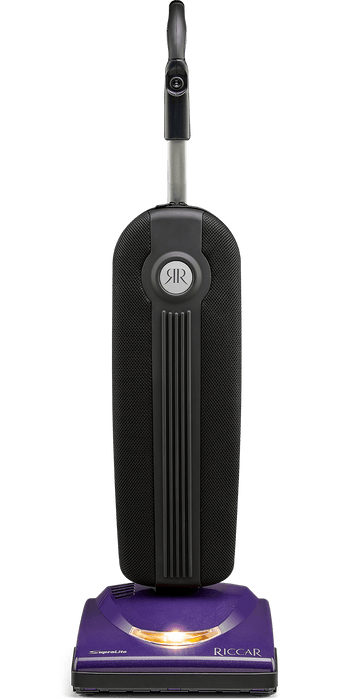 Riccar Supralite R10S Upright Vacuum, weighs just 9 pounds!
Riccar Supralite R10S Upright Vacuum Cleaner is available in our Raleigh and Cary NC stores, or we can deliver it direct to your door.
At just nine pounds and packed with cleaning power, the SupraLite Standard is easy to use, easy to transport and cleans way better than "standard". Its performance earned it a Gold Seal of Approval from the Carpet and Rug Institute. From its Deluxe Touch handle grip and metal handle tube to its rubber wheels and non-marking bumper, the SupraLite is designed to take the chore out of vacuuming. A 35-foot cord and 24-inch long self-sealing HEPA media bag mean fewer stops. Great for cleaning wall-to-wall carpet and bare floors and area rugs, the two-speed SupraLite Standard will quickly become your go-to vacuum.
Gold Seal of Approval - Carpet and Rug Institute tested for soil removal, soil containment and carpet wear.
Lightweight - Weighs only nine pounds.
Squeegee - Cleans bare floors beautifully.
ABS Plastic Body - Used in hardhats and SupraLite nozzles, ABS plastic is rigid and durable yet incredibly lightweight.
Self-Sealing HEPA Media Bag - Meets HEPA filtration standard of 99.97% efficiency at 0.3 microns. Self-sealing bags are simple to attach and remove for clean disposal.
Two Speeds - Performs at high power or higher power.
Wood Brushroll - With four brushes for deep carpet cleaning, and makes the vacuum propel easily.
Metal Handle Tube and Pivot Bracket - Durable components stand up to daily use.
Lightweight - Weighs only 9 pounds
Have questions? Call 1-800-662-8745 • M-F 10am-5pm, Sat 10am-3pm, EST
The best vacuum cleaners, central vacuums, carpet cleaners, steam cleaners, air purifiers, vacuum bags, filters, belts, parts, home fragrance products and cleaning supplies are at Capital Vacuum Floor-Care World 1666 North Market Drive in Raleigh NC (919) 878-8530 and 209 E Chatham Street in Cary NC (919) 467-2834. Family-owned since 1953. Be smart, buy where you get local service!