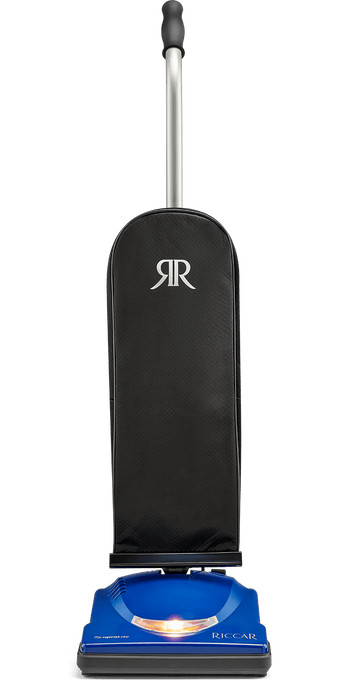 Riccar Supralite R10E Upright Vacuum, weighs just 8 pounds!
Riccar Supralite R10E Upright Vacuum Cleaner is available in our Raleigh and Cary NC stores, or we can deliver it direct to your door.
This entry-level SupraLite is built to clean floors. All of them. We've built the Entry model with the critical features for the best floor cleaning possible but none of the frills. The Entry model features a wood brushroll, 30-foot cord, plastic wheels and a paper bag. With its Gold Seal of Approval from the Carpet and Rug Institute, rest assured performance isn't sacrificed for an attractive price. The SupraLite Entry, first introduced more than a decade ago, continues to be a solid value for years of remarkable floor cleaning.
Gold Seal of Approval - Carpet and Rug Institute tested for soil removal, soil containment and carpet wear.
Lightweight - Weighs only eight pounds.
ABS Plastic Body - Used in hardhats and SupraLite nozzles, ABS plastic is rigid and durable yet incredibly lightweight.
Metal Handle Tube and Pivot Bracket - Durable components stand up to daily use.
Weighs just 8 pounds.
Have questions? Call 1-800-662-8745 • M-F 10am-5pm, Sat 10am-3pm, EST
The best vacuum cleaners, central vacuums, carpet cleaners, steam cleaners, air purifiers, vacuum bags, filters, belts, parts, home fragrance products and cleaning supplies are at Capital Vacuum Floor-Care World 1666 North Market Drive in Raleigh NC (919) 878-8530 and 209 E Chatham Street in Cary NC (919) 467-2834. Family-owned since 1953. Be smart, buy where you get local service!