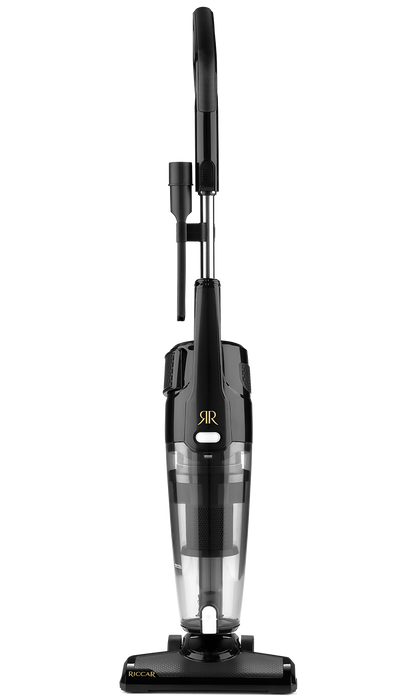 Riccar Broom Vacuum Corded R60
Riccar R60 Corded Vacuum Cleaner is available in our Raleigh and Cary NC stores, or we can deliver it direct to your door.
Powerful, compact and perfectly cleans bare floors. Bagless design includes a HEPA media filter.
The R60 broom vacuum is lightweight, bagless and the perfect go-to vacuum for quickly cleaning bare floors. With a convenient carrying handle, it's simple to pull R60 out of the closet, flip the quick-release cord hook for fast access to the 30-foot cord, and vacuum away. The speed switch is located on the base of the vacuum, and the looped handle extends for longer reach. The R60 nozzle features edge cleaning on both sides, and a squeegee gently lifts dust and crumbs for the R60 to whisk away in its large capacity dust bin.
HEPA Media Filter - Keeps particles trapped in the filter instead of blowing them back into the room.
Two Speeds - Performs at high power or higher power.
Dust Bin - Large capacity dust bin is easy to empty.
30-Foot Cord - Reaches further for better mobility.
Squeegee - Cleans bare floors beautifully.
Carrying Handle - Balances weight perfectly for carrying on stairs or between rooms.
Have questions? Call
1-800-662-8745 
• M-F 10am-5pm, Sat 10am-3pm, EST
The best vacuum cleaners, central vacuums, carpet cleaners, steam cleaners, air purifiers, vacuum bags, filters, belts, parts, home fragrance products and cleaning supplies are at Capital Vacuum Floor-Care World 1666 North Market Drive in Raleigh NC (919) 878-8530 and 209 E Chatham Street in Cary NC (919) 467-2834.
Family-owned since 1953. 
Be smart, buy where you get local service!