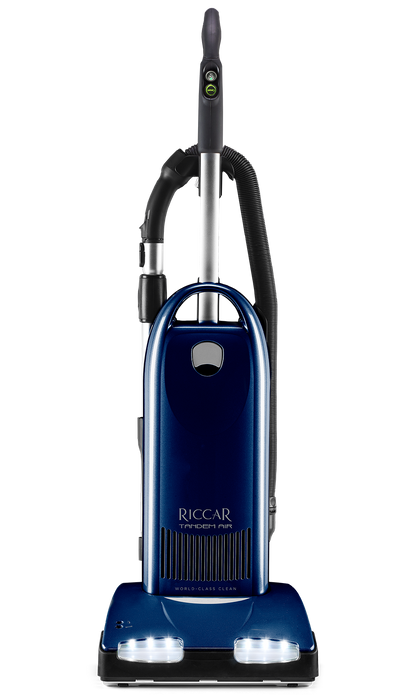 Riccar R30D Deluxe Tandem Air Upright Vacuum
Riccar Deluxe R30D Tandem Air Upright Vacuum Cleaner is available in our Raleigh and Cary NC stores, or we can deliver it direct to your door.
Dual motors combine for outstanding power, durability and filtration.
The 30 Series Deluxe has a new look with a built-in carry handle and a rich, new color. It features the revolutionary Tandem Air System and multi-stage filtration including HEPA media and charcoal filters to trap allergens and odors. A self-sealing HEPA media bag makes bag changing simple.
With a lifetime belt and metal parts in high-wear areas, it's built to last for years of cleaning carpets, rugs, bare floors and even with tools. A telescopic aluminum wand with stretch hose and on-board tools give you the power to reach up to 15 feet for cleaning floor to ceiling and everything in between.
The Deluxe model is backed by Riccar's 6-year warranty and Red Carpet Service Plan where honored by participating retailers.
Gold Seal of Approval - Carpet and Rug Institute tested for soil removal, soil containment and carpet wear.
Red Carpet Service Plan - Offered at participating retail stores, this scheduled maintenance keeps the vacuum running at its best.
Six-Position Carpet Height Adjustment - From extra-low to extra-high, select a setting for your specific pile height.
Tandem Air Technology - Two motors work in tandem for the ultimate combination in floor cleaning and tool suction.
Metal Brushroll with Replaceable Brushstrips - A strong metal roller is designed to perform well and to last for many years. As you'd expect, brushstrips are replaceable and are customizable to your home's floors.
Self-Sealing HEPA Media Bag - Meets HEPA filtration standard of 99.97% efficiency at 0.3 microns. Self-sealing bags are simple to attach and remove for clean disposal.
Surface Selector - With the flip of a switch, transition from deep carpet cleaning to gentle bare floor cleaning.
Hall Sensor and Lifetime Belt Protection - Breaking a belt is a thing of the past with Hall sensor technology. When it senses a a jammed condition, the brushroll stops until the jam is cleared. Then it's back to vacuuming like nothing ever happened.
HEPA Media Filter - Keeps particles trapped in the filter instead of blowing them back into the room.
Charcoal Filter - Absorbs pet odors through a foam charcoal filter.
Full Bag Indicator - A light reminds you when to replace the bag, eliminating guesswork.
15-Foot Cleaning Reach - A longer hose with balanced design stretches further without tipping the vacuum.
Model: Riccar R30D Deluxe Tandem Air Vacuum Cleaner Capital Vacuum Raleigh Cary NC
Have questions? Call 1-800-662-8745 • M-F 10am-5pm, Sat 10am-3pm, EST
The best vacuum cleaners, central vacuums, carpet cleaners, steam cleaners, air purifiers, vacuum bags, filters, belts, parts, home fragrance products and cleaning supplies are at Capital Vacuum Floor-Care World 1666 North Market Drive in Raleigh NC (919) 878-8530 and 209 E Chatham Street in Cary NC (919) 467-2834. Family-owned since 1953. Be smart, buy where you get local service!