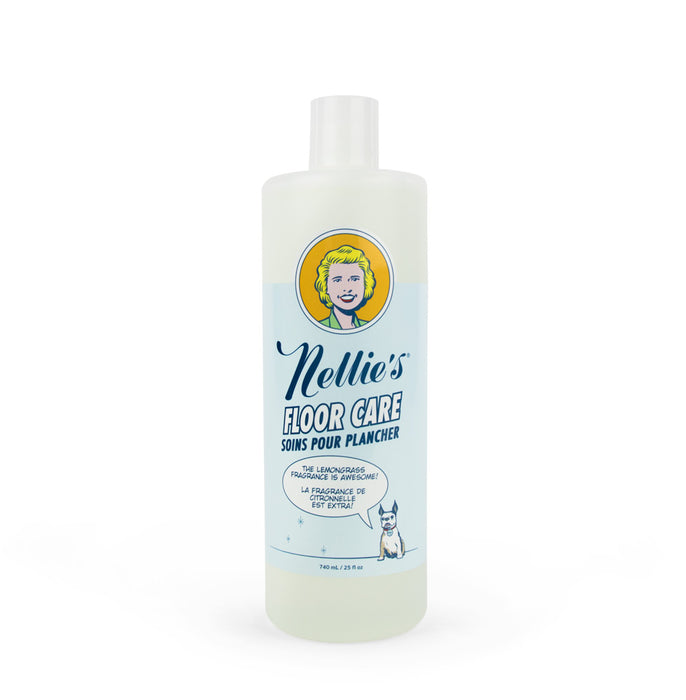 Nellie's Floor Care Floor Cleaning Solution, 25 oz.
Nellie's Floor Care Floor Cleaning Solution is available at Capital Vacuum in our Raleigh and Cary NC stores, or we can deliver it direct to your door.
Missed your mouth with that Merlot? Not to worry, Nellie's to the rescue! Specially formulated for the Nellie's WOW Mop, our Floor Care was made for those "oops" moments.
Made from a plant-based formula, our Floor Care provides exceptional cleaning power against household dirt and odors. Best of all, this cleaner is biodegradable and contains no harsh chemicals, phosphates, or strong perfumes. It does, however, leave an incredibly refreshing, natural lemongrass scent.

Great for hardwood, tile, ceramic, and more. To use, pour a 1:3 ratio of Floor Care to water, or full strength into your WOW Mop reservoir. You can use this floor cleaner with a regular ol' mop, just dilute in a bucket with warm water. But that sounds boring. Seriously, just try the Nellie's WOW Mop – you won't regret it!
Model: Nellie's Floor Care Floor Cleaning Solution, 25oz.
Have questions? Call
1-800-662-8745 
• M-F 10am-5pm, Sat 10am-3pm, EST
The best vacuum cleaners, central vacuums, carpet cleaners, steam cleaners, air purifiers, vacuum bags, filters, belts, parts, home fragrance products and cleaning supplies are at Capital Vacuum Floor-Care World 1666 North Market Drive in Raleigh NC (919) 878-8530 and 209 E Chatham Street in Cary NC (919) 467-2834. Family-owned since 1953. Be smart, buy where you get local service!