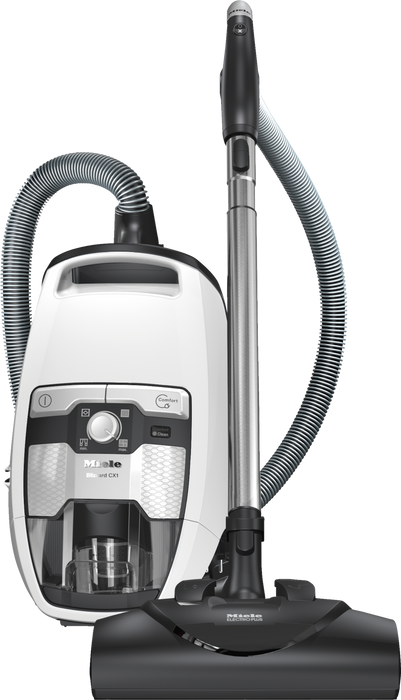 Miele Cat & Dog CX1 Bagless Canister Vacuum Cleaner SKCE0
Miele Cat & Dog CX1 Bagless Canister Vacuum Cleaner is available at Capital Vacuum in our Raleigh and Cary NC stores, or we can deliver it direct to your door.
Miele Cat & Dog CX1 Bagless Canister Vacuum Cleaner Features and Benefits:
Power – Motor: 1200-watt, low-noise, high-output Miele-made Vortex Motor System
Speed Control: - Suction control via step on settings that allow to select four different power levels from 300 - 1200 watts.
Filtration System: HEPA AirClean Filter System
Tools/Accessories Included in The Box:
Electro Plus electrobrush SEB228

Parquet Twister floor tool SBB300-3

Turbo Brush STB101

Hoses – Electric Hose

Wands – Stainless Steel Electric Telescopic Wand

Natural Bristle Dusting Brush

Upholstery Nozzle

Crevice tool
Additional Features:
Canister Construction - Exclusive Muilti-Stage AirClean Sealed System to keep the dirt inside the vacuum

Impressive 36 ft operating radius with an automatic one-touch cord rewind

Ergonomic carrying handle

Lightweight skeleton construction

3D bumper strip

Suction control via Rotary Dial control with 4 settings

Safety shut-off on overheating

Silence insulation
Unit Color: Lotus White
Recommended for: Low to medium pile carpeting, area rugs, and smooth flooring
Introducing Cat & Dog, one of the canister vacuums in the Miele Complete CX1 series. After years of research and development, Miele has done it again. They've created a whole new line of vacuums with innovative features to provide customers with an even better product. From the new ergonomic handle and lighter weight machine to the even quieter motor and a wider cleaning radius, the Cat & Dog will impress you with its features. The Complete CX1 family includes several new features highlighted below but with the same great cleaning capability and filtration for which Mieles are renowned.Miele's patented Original Sealed System takes HEPA certification one step further. Each individual compartment and the system as a whole are sealed with one continuous, durable rubber gasket, so particulate matter is trapped in Miele's bagless dust bin. The Cat and Dog includes the Active AirClean filter, especially helpful in households with pets.
Miele is the largest family owned floor care manufacturer in the world.
Miele Complete CX1 Cat and Dog Overview
The Miele Cat & Dog was designed for those of us who have to clean up after dis, cats and pets of all kinds. It comes with the Electro Plus electrobrush to clean your carpeting, the handheld Turbo Brush for cleaning pet hair from furniture, stairs and the car, and the Parquet Twister floor tool for hard flooring and area rugs. It includes an Active AirClean filter that is designed with active charcoal for absorbing pet odors. It also comes with an assortment of attachments. 
If you're looking for a light and compact canister vacuum especially designed for homes with pets, this Miele Cat & Dog Complete CX1 canister with the Electro Plus electrobrush may be the best choice for you. The redesigned ergonomic handle makes it so easy to lift and they've made the new CX1's even lighter. Miele has enhanced the already quiet motor with a new casing that has earned the name "silence motor" because of its whisper quiet operation.
With the Miele Cat & Dog, you can use your foot to switch between four power levels from 1200 all the way down to 300 watts for every cleaning need, from draperies to carpeting. Easy to understand graphic symbols will guide you to choose the right power level for each cleaning surface.
Miele CX1 vacuum cleaners have exceptional maneuverability with three smooth running castor wheels. With the CX1s, Miele has redesigned the wheels for even greater maneuverability. They have a 360 degree turning capacity which makes the machine so easy to use. Mounting them on steel axles guarantees stability and maneuverability. The travel ramp design lets you move your vacuum easily over thresholds and around obstructions. Even though it moves easily, your furniture is well protected from scratches with the new CX1 3D bumper strip.
The Cat & Dog CX1 comes with a long cord and one touch automatic cord rewind, simply by the touch of a foot switch. Combined with the hose and wands, you'll have an operating radius of 36 feet.
The Miele Cat & Dog CX1 Bagless Canister Vacuum Cleaner  is designed for smooth flooring and low to medium pile carpeting. With the Miele Electro Plus electrobrush (SEB 228), you'll be able to clean your carpeting and use the included Parquet Twister floor tool (SBB300-3) for your hard flooring. In addition, it comes with the Handheld Turbo Brush (STB101) pictured here which is perfect for cleaning pet hair from upholstery, carpeted stairs and your car. With its comfortable ergonomic handle, you'll not only find it extremely comfortable to use, but it also includes a control switch to turn your powerhead off/on from the handle.
Not all vacuums are created equal. Miele's R&D and Quality Control laboratories have been working for 80 years perfecting the "sealed system" to reduce indoor air pollutants. The Miele Cat and Dog boasts of an Active AirClean Filter. This filter combines the Super Air Clean filter with an active charcoal cassette which absorbs odors from the dust bag, especially useful if you have pets. While many vacuum cleaners today promise to remove allergens from the air completely, only Miele's AirClean Sealed System® has been proven by independent laboratory tests to be over 99.9% effective in capturing and containing pollens, dust mites, pet dander and other irritants known to trigger allergy and asthma symptoms.
The Miele Cat & Dog CX1 Bagless Canister Vacuum Cleaner  comes equipped with a 70 inch poly foam flexible suction hose for advanced ability to follow, advanced stability, and a higher durability. The Cat & Dog also comes with a full set of attachments. Carrying your upholstery tool and crevice nozzle in a convenient storage compartment on the vacuum itself makes the tools easily accessible all the time.
Model: SKCE0
Have questions? Call 1-800-662-8745 • M-F 10am-5pm, Sat 10am-3pm, EST
Miele Cat & Dog Complete CX1 Bagless Canister Vacuum Cleaner Capital Vacuum Raleigh Cary NC
The best vacuum cleaners, central vacuums, carpet cleaners, steam cleaners, air purifiers, vacuum bags, filters, belts, parts, home fragrance products and cleaning supplies are at Capital Vacuum Floor-Care World 1666 North Market Drive in Raleigh NC (919) 878-8530 and 209 E Chatham Street in Cary NC (919) 467-2834. Family-owned since 1953. Be smart, buy where you get local service!