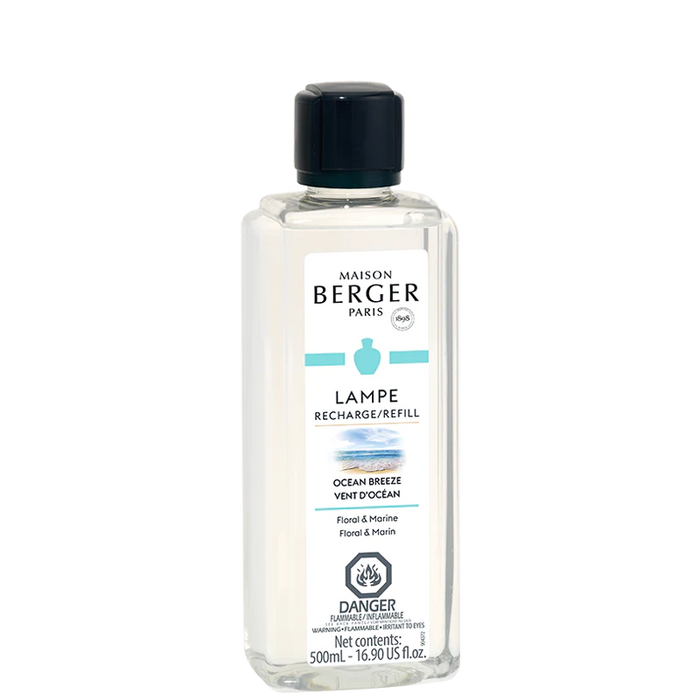 Maison Berger Ocean Breeze Lamp Refill Fragrance - 500 ml (16.9 oz)
The aromas of an invigorating sea swell, a floral bouquet, and exotic wood will transport you to a seaside getaway.
Bring the scents of delicate breezes caressing faraway shores into your home with the Ocean Breeze home fragrance. A burst of marine notes gives way to a floral heart before elegant white musk, warm amber, and exotic wood lend a mysterious character to this composition. Imbue your home with an invigorating ambiance that will awaken your wanderlust. Breathe aromas evocative of warm sun on your skin, cool sea sprays on your face, and marine-scented wind in your hair. Escape the stresses of everyday life as this enlivening fragrance sweeps you away on a seaside jaunt at any time of day.

Use with any Lampe Berger to purify and delicately perfume your home. The Lampe Berger has a unique and patented diffusion system that helps eradicate undesirable odors and bacteria while also diffusing your favorite fragrance. Purify your air the French way.

The Ocean Breeze home fragrance is a breath of marine air in an exotic sea spray. Its heart is a floral melody that interplays with marine notes, inviting you on an exhilarating seaside jaunt. Soft white musk and exotic wood aromas evoke far-off shores.
Head Notes: Rose, Blackcurrant, Marine Notes
Heart Notes: Rose, Jasmine, Lily of the Valley
Base Notes: White Musk, Amber, Exotic Wood
*Please note, we DO NOT ship this product to California, Alaska, or Hawaii.
Volume:
500 ml (16.9 oz)
Regulatory Information:
Isopropanol. Highly flammable liquid and vapor. May cause serious eye irritation. May cause drowsiness or dizziness. Dangerous. Follow the instructions for use.
Duration:
20 hrs of diffusion - 80 hrs of fragrance
Item 414033. Maison Berger Ocean Breeze Lamp Refill Fragrance - 500 ml (16.9 oz). Capital Vacuum Raleigh Cary NC
Designed in 1898 to purify the air in hospitals, the small catalytic lamp created by pharmacy dispenser Maurice Berger, quickly became very popular with the public. Redesigned by famous designers, embraced by leading figures from the art community (Coco Chanel, Picasso, Colette and Jean Cocteau), it was then fitted with a perfuming function and gradually became a style icon, appreciated for its sleek design and its delicate fragrances.

Lampe Berger now Maison Berger is a functional and attractive accessory which has spanned the years, purifying indoor air and acting as a room deodorizer adding an elegant or contemporary touch to every home. In view of this popularity, Maurice Berger's successors decided to continue to embellish indoor air and developed new rituals with candles, scented bouquets and more.
The best vacuum cleaners, central vacuums, carpet cleaners, steam cleaners, air purifiers, vacuum bags, filters, belts, parts, home fragrance products and cleaning supplies are at Capital Vacuum Floor-Care World 1666 North Market Drive in Raleigh NC (919) 878-8530 and 209 E Chatham Street in Cary NC (919) 467-2834. Family-owned since 1953. Be smart, buy where you get local service!