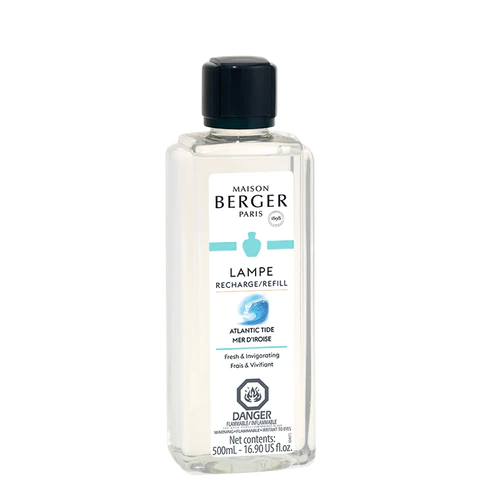 Maison Berger Atlantic Tide Lamp Refill Fragrance - 500 ml (16.9 oz)
Transform your home into a beachside retreat with the scents of the ocean.
Do you wish you could spend all your time at the beach? The Atlantic Tide home fragrance captures the aromas of a seaside stroll. The composition has an aromatic opening of sage and Siberian pine in the head. Rose adds refinement to the heart before the briny aromas of sea spray and seaweed assert themselves. Musk and moss close the fragrance on earthy accords. Close your eyes, breathe in this evocative aroma and you will almost be able to hear the surf breaking on the shore and feel the wind in your hair and sand between your toes.

Use with any Lampe Berger to purify and delicately perfume your home. The Lampe Berger has a unique and patented diffusion system that helps eradicate undesirable odors and bacteria while also diffusing your favorite fragrance. Purify your air the French way.

This briny aroma captures the energy of the sea. Opening on peppy sage and fresh Siberian pine, the fragrance continues with elegant rose and salty sea spray. Seaweed, musk, and moss add depth in the base.
Head Notes: Sage, Siberian Pine

Heart Notes: Rose, Sea Spray

Base Notes: Seaweed, Musk, Moss

*Please note, we DO NOT ship this product to California, Alaska, or Hawaii.
Volume:
500 ml (16.9 oz)
Regulatory Information:
Isopropanol. Highly flammable liquid and vapor. May cause serious eye irritation. May cause drowsiness or dizziness. Dangerous. Follow the instructions for use.
Duration:
20 hrs of diffusion - 80 hrs of fragrance
Item 414031. Maison Berger Atlantic Tide Lamp Refill Fragrance - 500 ml (16.9 oz). Capital Vacuum Raleigh Cary NC
Designed in 1898 to purify the air in hospitals, the small catalytic lamp created by pharmacy dispenser Maurice Berger, quickly became very popular with the public. Redesigned by famous designers, embraced by leading figures from the art community (Coco Chanel, Picasso, Colette and Jean Cocteau), it was then fitted with a perfuming function and gradually became a style icon, appreciated for its sleek design and its delicate fragrances.

Lampe Berger now Maison Berger is a functional and attractive accessory which has spanned the years, purifying indoor air and acting as a room deodorizer adding an elegant or contemporary touch to every home. In view of this popularity, Maurice Berger's successors decided to continue to embellish indoor air and developed new rituals with candles, scented bouquets and more.
The best vacuum cleaners, central vacuums, carpet cleaners, steam cleaners, air purifiers, vacuum bags, filters, belts, parts, home fragrance products and cleaning supplies are at Capital Vacuum Floor-Care World 1666 North Market Drive in Raleigh NC (919) 878-8530 and 209 E Chatham Street in Cary NC (919) 467-2834. Family-owned since 1953. Be smart, buy where you get local service!