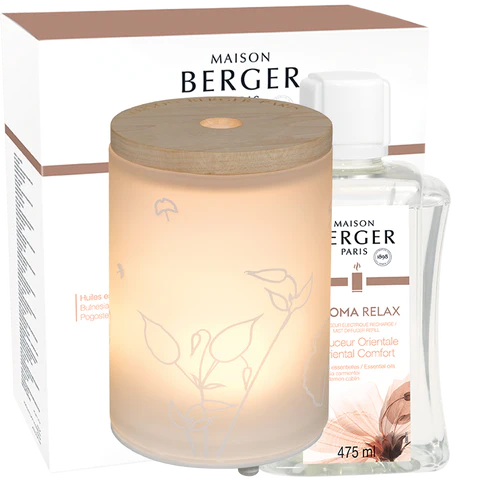 Maison Berger Aroma Relax Mist Diffuser Set- Oriental Comfort
Relax with this Oriental Sweetness. A harmony of the body and the recovered spirit, for an absolute happiness.
With its Scandinavian style inspiration, this Aroma Relax Mist Diffuser fits perfectly into your home. The white purity of the frosted glass contrasts with the rougher appearance of the wood while the brilliance of the flowers, enhanced by the lines of light, bring a touch of femininity and elegance. Its Sweet Oriental fragrance, reveals its subtle and delicate aromatic scent of star anise, its floral scents of rose and its vanilla accords. This fragrance, ready to use, is enriched with essential oils of patchouli, wood of Guaiac and geranium. These, recognized for their aromachological virtues, will help to re-balance the mood and facilitate the appeasement. No need to dilute or mix this olfactory composition with other substances (water, perfume or essential oils). 
Fully programmable and intuitive, you choose the perfume diffusion mode, the perfume duration and even the luminous atmosphere. A ritual quickly adopted.
The Oriental Comfort Home Fragrance tells the tale of lush vegetation. Tonka bean and vanilla provide warmth and a fruity sensation to your interior, while essential oils of patchouli and lignum vitae provide a moment of relaxation.
This gift box contains a refill gift Aroma Relax - Oriental Sweetness 475ml

Ready-to-use solution enriched with the right dose of essential oils, without risk of under or over dosage. Limits scaling and fouling.

The functions of the mist diffuser can be controlled using a remote control

Easy to use and change perfume

2 years warranty
Head Notes: Star Aniseed, Liquorice

Heart Notes: Jasmine, Rose
Base Notes: Tonka Beans, Vanilla

*Please note, we DO NOT ship this product to California, Alaska, or Hawaii.
Dimensions (HxWxL):
5.59 in x 3.7 in x 2.3 in
Material:
Glass Decorative Lens (backlit) with Wood Top
Regulatory Information:
Isopropanol. Highly flammable liquid and vapor. May cause serious eye irritation. May cause drowsiness or dizziness.
Duration: 7 hours
Item 317010. Maison Berger Aroma Relax Mist Diffuser Set- Oriental Comfort. Capital Vacuum Raleigh Cary NC
Designed in 1898 to purify the air in hospitals, the small catalytic lamp created by pharmacy dispenser Maurice Berger, quickly became very popular with the public. Redesigned by famous designers, embraced by leading figures from the art community (Coco Chanel, Picasso, Colette and Jean Cocteau), it was then fitted with a perfuming function and gradually became a style icon, appreciated for its sleek design and its delicate fragrances.

Lampe Berger now Maison Berger is a functional and attractive accessory which has spanned the years, purifying indoor air and acting as a room deodorizer adding an elegant or contemporary touch to every home. In view of this popularity, Maurice Berger's successors decided to continue to embellish indoor air and developed new rituals with candles, scented bouquets and more.
The best vacuum cleaners, central vacuums, carpet cleaners, steam cleaners, air purifiers, vacuum bags, filters, belts, parts, home fragrance products and cleaning supplies are at Capital Vacuum Floor-Care World 1666 North Market Drive in Raleigh NC (919) 878-8530 and 209 E Chatham Street in Cary NC (919) 467-2834. Family-owned since 1953. Be smart, buy where you get local service!