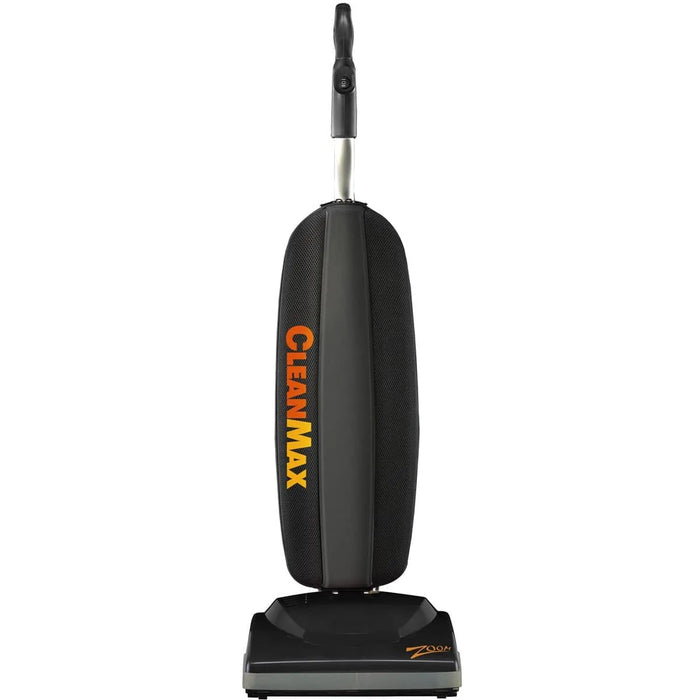 CleanMax Commercial Upright Vacuum ZM-500 Deluxe Lightweight
CleanMax Commercial Upright Vacuum ZM-500 Lightweight Vacuum is available in our Raleigh and Cary NC stores, or we can deliver it direct to your door.
The World's Fastest Vacuum just got better. The CleanMax Zoom 500 model still weighs only 8 pounds, but has bulked up in convenience and durability. Now featuring two speed settings at your fingertips, a rubber squeegee for ultimate bare floor cleaning and a steel handle tube, the Zoom 500 is up for any challenge. Your choice of Vacuum only or Vacuum with Vacuum Bags. Features: Best Cleaning, 8 Pound Upright, Powerful 5.5 AMP Motor with Two Speed Settings, Aggressive Agitation for Brush-Propelled Feel, Large 3.5″ Diameter Fan for Powerful Air Flow, Rubber Squeegee for Bare Floor Cleaning, Circuit Breaker Motor Protection, Automatic Height Adjustment, 6 Rubber Wheels with Brass Bushings, On/Off Switch On Handle, with Speed Selector, 35 foot Commercial Cord.
The CleanMax ZM-500 is a good commercial vacuum for many applications. Commercial cleaning, offices, retail stores, restaurants and churches. It weighs only 8 pounds! Easy for anyone to use.
The CleanMax ZM-500 is powerful and has a self-adjusting nozzle that will clean low, up to high pile carpets. It has a 30' heavy duty cord, durable bottom base plate and metal handle.
The CleanMax ZM-500 does not have on-board attachments. It you need a model with a on-board hose and tools, consider the CleanMax CMP-3T, CMNR-QD or Sebo commercial models.
Color: Black

Weight: 8 lbs

Fan Diameter: 3.75 inches

Filtration: HEPA Media

Edge Cleaning: Front and Side

Motor Protection: Circuit Breaker

Carpet Height Adjustment: Auto

Belt Type: Stretch

Belt Protection: None 

Bottom Plate Material: ABS Plastic

Brushroll Type: Wood

Cord Length: 35 ft

Filtration: HEPA Media Bag

Handle Tube Material: Metal

Headlight: No

On/Off Switch: On Handle

Power Amp Watts: 5.5 Amps

Wheel Type: Non-Marking Rubber
Have questions? Call 919-878-8530 or 919-467-2834 • M-F 10am-5pm, Sat 10am-3pm, EST
CleanMax Commercial Upright Vacuum ZM-500 Capital Vacuum Raleigh Cary NC
The best vacuum cleaners, central vacuums, carpet cleaners, steam cleaners, air purifiers, vacuum bags, filters, belts, parts, home fragrance products and cleaning supplies are at Capital Vacuum Floor-Care World 1666 North Market Drive in Raleigh NC (919) 878-8530 and 209 E Chatham Street in Cary NC (919) 467-2834. Family-owned since 1953. Be smart, buy where you get local service!