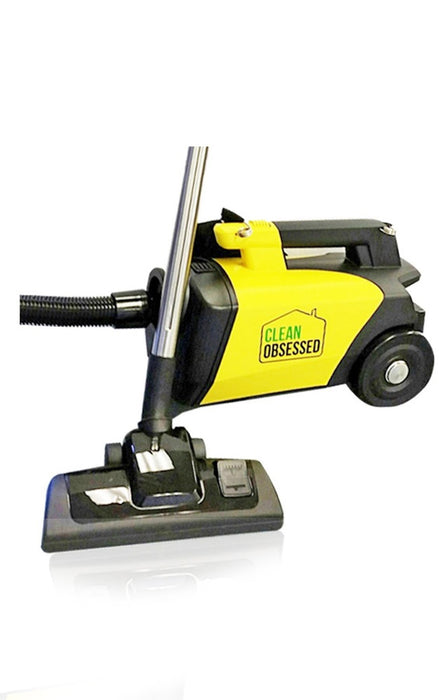 Clean Obsessed Commercial Canister Vacuum CO711 with Attachments
Clean Obsessed Commercial Canister Vacuum CO711 with Attachments
is available in our Raleigh and Cary NC stores, or we can deliver it direct to your door. It's the most powerful compact portable canister on the market.

Features include:
115 plus inches of waterlift, the most suction of any commercial vacuum of the size.
8 piece tool kit

Combo rug and floor tool with swivel neck and rear wheels
Upholstery tool with slide on brush
Round brush
Floor tool
Crevice tool
Stainless steal telescopic wand.

Easy push in pull out commercial grade hose.
27ft 17/3 commercial cord.
Non-marking rubber coated wheels.
Reinforced metal axle rear wheel design.
Large capacity H10 5 layer micro filtration.
Optional reusable SMS filtration cloth bag #CO711CLTH.
Adjustable comfort padded shoulder strap for easy maneuverability.
Includes:
Horsehair Round Brush.
Upholstery Tool ( 5 inches wide)
Slide on Horsehair Brush.
12 Inch Wide Horsehair Brush.
9 Inch Crevice Tool that can be stored in the handle of the unit.
Have questions? Call 919-878-8530 or 919-467-2834 • M-F 10am-5pm, Sat 10am-3pm, EST
Clean Obsessed Commercial Canister Vacuum CO711 with Attachment
Capital Vacuum Raleigh Cary NC
The best vacuum cleaners, central vacuums, carpet cleaners, steam cleaners, air purifiers, vacuum bags, filters, belts, parts, home fragrance products and cleaning supplies are at Capital Vacuum Floor-Care World 1666 North Market Drive in Raleigh NC (919) 878-8530 and 209 E Chatham Street in Cary NC (919) 467-2834. Family-owned since 1953. Be smart, buy where you get local service!