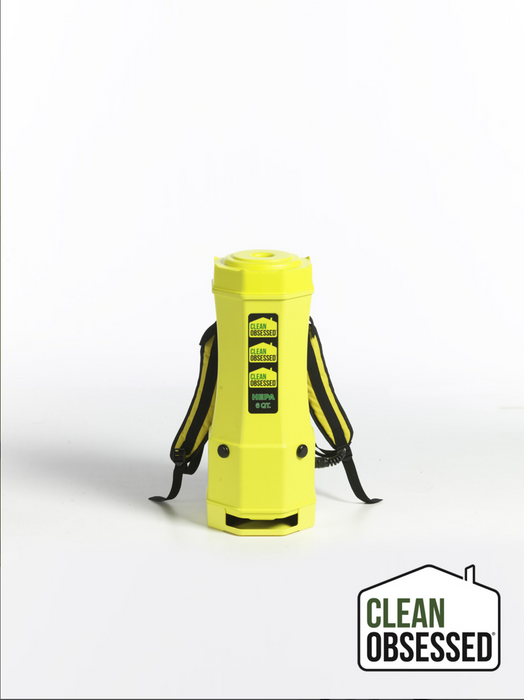 Clean Obsessed Commercial Backpack Vacuum CO6 with Attachments
Clean Obsessed Commercial Backpack Vacuum CO6 with Attachments
is available in our Raleigh and Cary NC stores, or we can deliver it direct to your door. It's one of the most powerful and durable backpack vacuums on the market.

Features include:
8 Piece Tool Kit

1-1/2″ Two piece aluminum S-Wand
4ft. to 7ft. Stretch hose w/360° Swivel
All purpose 12″ floor brush
Extra long 9″ crevice tool
5″ Wide upholstery tool with slide on horsehair brush
Paddle tool
Dusting brush

115″+ Of suction power – Highest in the industry
H-10 HEPA media filter bags, comes with 3 bags when purchased
Weight 9.5 lbs. (6 Quart)

50ft 16/3 Gauge extension cord with lighted ends
Specially engineered design that allows exhaust to be directed away from the users body
Adjustable straps
Extra cushion shoulder strap & waist belt
On/Off switch with optional power nozzle hook up
Built in fingertip control right on your hip.
Specifications:
MODEL : CO6
CORD LENGTH : 50FT
HOSE LENGTH : 4-7FT

WEIGHT : 9.5LBS
WATERLIFT : 115IN
Have questions? Call 919-878-8530 or 919-467-2834 • M-F 10am-5pm, Sat 10am-3pm, EST
Clean Obsessed Commercial Backpack Vacuum CO6 with Attachments
Capital Vacuum Raleigh Cary NC
The best vacuum cleaners, central vacuums, carpet cleaners, steam cleaners, air purifiers, vacuum bags, filters, belts, parts, home fragrance products and cleaning supplies are at Capital Vacuum Floor-Care World 1666 North Market Drive in Raleigh NC (919) 878-8530 and 209 E Chatham Street in Cary NC (919) 467-2834. Family-owned since 1953. Be smart, buy where you get local service!