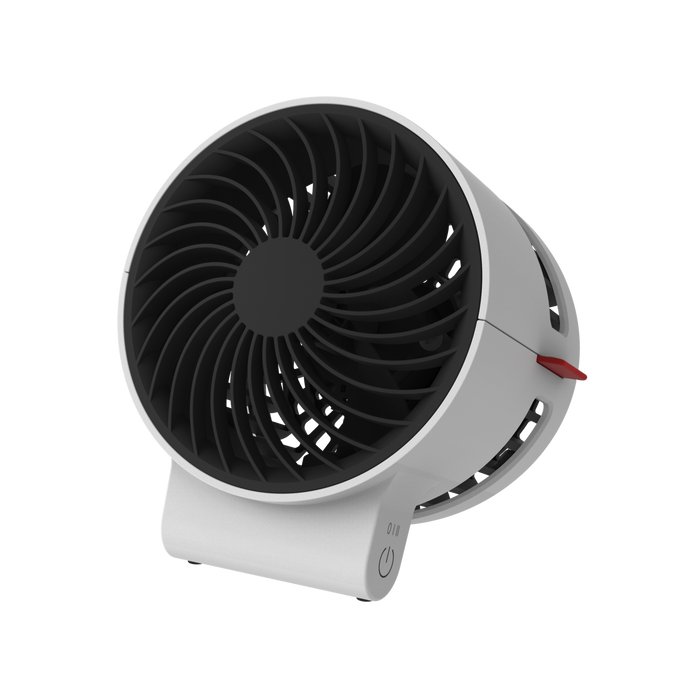 Boneco Air Shower Fan F50 Personal USB Portable Fan
Boneco Air Shower Fan F50 Personal USB Portable Fan - is available at Capital Vacuum in our Raleigh or Cary stores, or we can deliver it direct to your door. Create the perfect breeze.
The BONECO F50 fan has the unique look of the BONECO air shower fan line. With its simple 2-speed touch control and USB-C powered connection, it can be used everywhere you have access to a computer, laptop, power bank or USB outlet.
Small and elegant: suitable for private use wherever you are
USB connection: can be used everywhere
Touch Control: simple, easy and modern
Swiss Designed: durable and long lasting
Dimensions: 4.1"L x 4.1"W x 4.7"H
High Performance Swiss designed Fan for great air circulation in anywhere you are.

The BONECO line of Air Shower Fans have been specially designed to move a greater volume of air and at faster speeds to create a powerful stream of air and achieve superb air circulation. This keeps the room's air in constant motion to create a shower of air all around you, disperse any hot or cold spots, and keep the entire room more comfortable.
Order now and feel the refreshing Boneco Air Shower breeze today!
Have questions? Call 1-800-662-8745 • M-F 10am-5pm, Sat 10am-3pm, EST
Boneco Air Shower Fan USB F50 Capital Vacuum Raleigh Cary NC
Model: F50 Item Number: 45997 UPC 834546001258
The best vacuum cleaners, central vacuums, carpet cleaners, steam cleaners, air purifiers, vacuum bags, filters, belts, parts, home fragrance products and cleaning supplies are at Capital Vacuum Floor-Care World 1666 North Market Drive in Raleigh NC (919) 878-8530 and 209 E Chatham Street in Cary NC (919) 467-2834. Family-owned since 1953. Be smart, buy where you get local service!