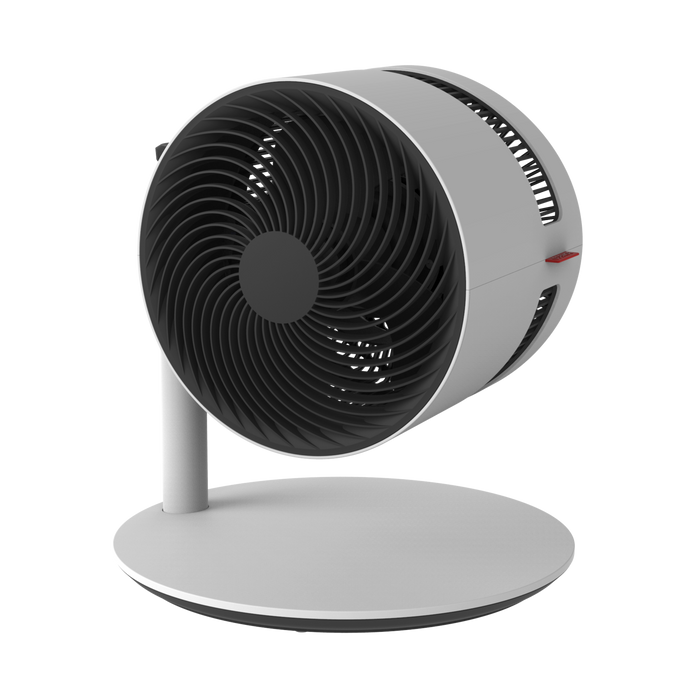 Boneco Air Shower Fan F210 Floor or Tabletop Fan
Boneco Air Shower Fan F210 Floor or Tabletop Fan - is available at Capital Vacuum in our Raleigh or Cary stores, or we can deliver it direct to your door. Create the perfect breeze.
The BONECO F210 creates powerful air circulation. The head of the fan can be rotated 270 degrees so it can be pointed virtually anywhere you'd like. The superior air circulation is achieved by 3 main points: the single arm design allows for maximum air intake, the deep pitch fan blades draw large amounts of air through the fan, and the uniquely curved shape of the front grill boosts the fans airspeed. This all allows for a truly versatile fan. Point it at the ceiling for the signature air shower feeling and to reduce hot and cold zones, direct air between multiple floors, pull fresh air indoors, or use it with your air conditioner or furnace to achieve a uniform temperature within your space.
Stylish, unique and innovative single arm design
Superior air circulation for signature natural air shower feeling
270 degree manually rotatable airflow
Intuitive rotational knob controls 4-speed levels
Elegant and strong Foot Stand design enables stable and safe operation
Original Swiss design and engineering
Dimensions: 14.8"L x 14.8"W x 15.9"H
High Performance Swiss designed Fan for great air circulation in any room of your home.

The BONECO line of Air Shower Fans have been specially designed to move a greater volume of air and at faster speeds to create a powerful stream of air and achieve superb air circulation. This keeps the room's air in constant motion to create a shower of air all around you, disperse any hot or cold spots, and keep the entire room more comfortable.
Order now and feel the refreshing Boneco Air Shower breeze today!
Have questions? Call 1-800-662-8745 • M-F 10am-5pm, Sat 10am-3pm, EST
Boneco Air Shower Fan F210 Capital Vacuum Raleigh Cary NC
Model: F210 Item Number: 45999 UPC 834546001265
The best vacuum cleaners, central vacuums, carpet cleaners, steam cleaners, air purifiers, vacuum bags, filters, belts, parts, home fragrance products and cleaning supplies are at Capital Vacuum Floor-Care World 1666 North Market Drive in Raleigh NC (919) 878-8530 and 209 E Chatham Street in Cary NC (919) 467-2834. Family-owned since 1953. Be smart, buy where you get local service!