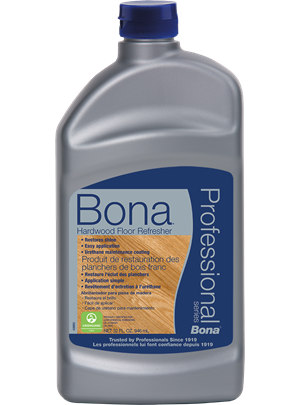 Bona Pro Series Hardwood Floor Refresher 32 oz
Bona Pro Series Hardwood Floor Refresher 32 oz - is available at Capital Vacuum in our Raleigh or Cary NC stores, or we can deliver it direct to your door.
A professional-level, urethane maintenance coating formulated to restore shine and luster to worn hardwood floors.
Bona Hardwood Floor Refresher® provides a clear, highly durable gloss to polyurethane finished wood floors that are dull, worn, scratched, or shows signs of wear. Bona Hardwood Floor Refresher restores the beauty of wood floors, leaves no build-up, and is recoatable.
Bona Pro Series Hardwood Floor Refresher features:
Urethane maintenance coating that's recoatable with finish
Specially formulated for use on worn hardwood floors
Restores shine
Easy application with excellent leveling properties
Coverage rate 500 sqft/container
All types of unwaxed, residential and commercial polyurethane finished wood floors that are dull, worn, scratched, or show signs of wear.
• Can be used on most "aluminum oxide" and "ceramic" type UV finishes
• Use every 3-4 months depending on traffic
Directions:
BEFORE USING, READ ALL DIRECTIONS AND MATERIAL SAFETY DATA SHEET.
1. Remove furniture, rugs, etc. Vacuum sweep or dust mop, then thoroughly clean with Bona Hardwood Floor Cleaner and the Microfiber Cleaning Pad on your Bona Mop. Allow the floor to dry. 2. Gently rock product back and forth to mix. Slightly dampen the Microfiber Applicator Pad with water and attach to mop. Squirt product onto the floor and spread. Work in sections small enough to keep the Applicator Pad wet. Smooth with the grain. Continue working in sections until the entire floor is finished. Rinse Applicator Pad with water. 3. Allow to dry at least 1 hour before walking on the floor. For a glossier look, a second coat may be applied after 2 hours. Allow 24 hours before heavy foot traffic.
For best results: Always test in an inconspicuous section of the floor before use. Coverage should be 500 square feet per bottle. Do not apply the product too thin or streaking will occur. Coat the entire floor to ensure an even appearance.
Floor Care
1. Clean 2. Squirt and Spread 3. Allow to Dry

Bona Pro Series Hardwood Floor Refresher 32 oz WT760051163 Capital Vacuum Raleigh Cary NC
The best vacuum cleaners, central vacuums, carpet cleaners, steam cleaners, air purifiers, vacuum bags, filters, belts, parts, home fragrance products and cleaning supplies are at Capital Vacuum Floor-Care World 1666 North Market Drive in Raleigh NC (919) 878-8530 and 209 E Chatham Street in Cary NC (919) 467-2834. Family-owned since 1953. Be smart, buy where you get local service!