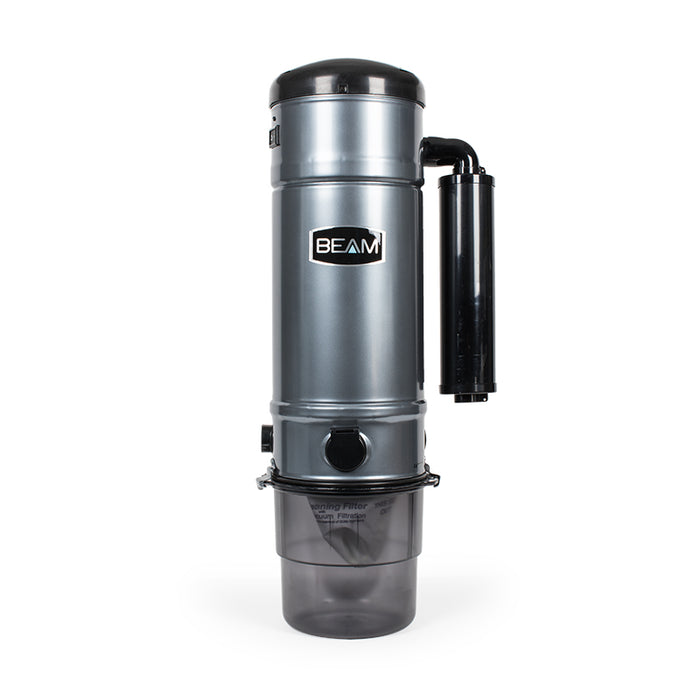 Beam Central Vacuum SC375 Serenity Power Unit 000325
Beam Central Vacuum Cleaner SC375 Serenity Power Unit 000325 is available at Capital Vacuum in our Raleigh and Cary NC stores, or we can deliver it direct to your door.
Powerful whole house cleaning. No matter what your home size there is a BEAM Classic that will fit your cleaning needs perfectly.
The Beam Central Vacuum Cleaner SC375 features a high performance 2-stage motor to give maximum cleaning power. Combined with BEAM's other quality features this model at 650 air watts is an excellent value. This Beam Central Vacuum Cleaner SC375 covers up to 6000 square feet of living space.
The Beam Central Vacuum Cleaner SC375 has a unique self-cleaning filter - you'll never need to clean your filter. The Gore® Self-Cleaning Filter cleans itself every time you turn your vacuum off.
This unit has a built-in utility inlet for garage or basement use. Conveniently vacuum out your car or clean your basement or garage by plugging a hose directly into the utility inlet on the power unit. 
The anti-vibration mounting system keeps your unit in place for quiet low-maintenance operation. The Twist-Lock bucket is easy to remove, empty and replace. With powerful suction, lightweight, versatile convenience and durability, BEAM Central Vacuum Systems are designed to help remove dirt, dust, allergens and other debris from your living space and provide you with a clean, healthy home.
A built-in BEAM Central Vacuum System is easy to maneuver around furniture and doorways, up stairs, and from room to room without having to lift a heavy upright vacuum or drag a canister around behind you. With convenient cleaning tools on board, you always have the right tool for the job.
BEAM Central Vacuum Systems are quieter than most household sounds. Vacuum whenever you want without disturbing the peace and tranquility of your home. With the motor located away from the living area, the quiet hush of airflow is all you'll hear. Vacuum whenever you want without disturbing anyone's activities or sleep.
BEAM Central Vacuum Systems remove air, dirt and dust vacuumed from the home, whereas conventional vacuums may filter dirt and dust but recirculate the same air via the exhaust back into the home.
BEAM Central Vacuums are engineered with larger motors providing powerful suction for a deeper clean.
Less hassle. BEAM Central Vacuums have a self-cleaning filter and a large capacity dirt bucket for less frequent emptying. Portable vacuums have filters that need to be replaced and bags that need to be emptied regularly.
Beam Central Vacuum SC375 Classic Power Unit 000325 Capital Vacuum Raleigh Cary NC

Have questions? Call 1-800-662-8745 • M-F 10am-5pm, Sat 10am-3pm, EST
The best vacuum cleaners, central vacuums, carpet cleaners, steam cleaners, air purifiers, vacuum bags, filters, belts, parts, home fragrance products and cleaning supplies are at Capital Vacuum Floor-Care World 1666 North Market Drive in Raleigh NC (919) 878-8530 and 209 E Chatham Street in Cary NC (919) 467-2834. Family-owned since 1953. Be smart, buy where you get local service!