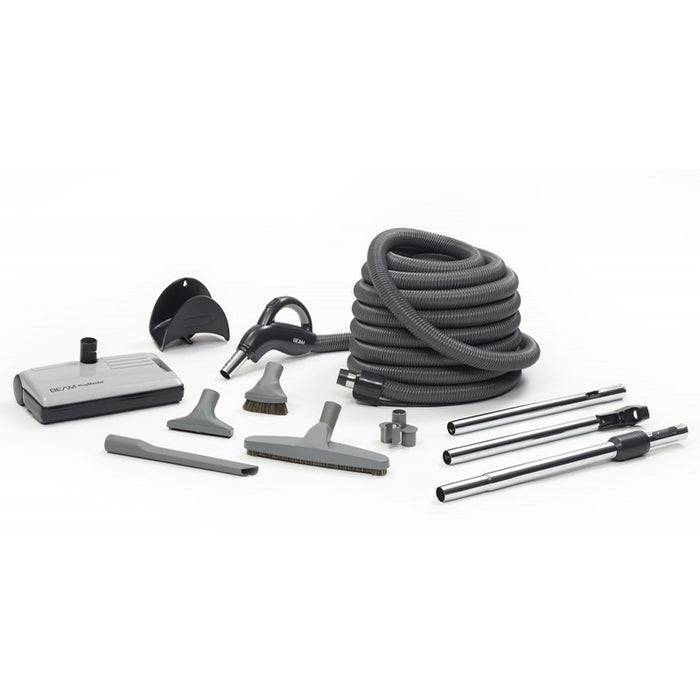 Beam / Fitall Central Vacuum Attachment Set Deluxe Rugmaster Express Carpet and Bare Floor Accessory Set 012102 012269
Beam Attachment Set Deluxe Rugmaster Express Carpet and Bare Floor Accessory Set 012102
012269 is available at Capital Vacuum in our Raleigh and Cary NC stores, or we can deliver it direct to your door.
With convenient cleaning tools at hand, you always have the right tool for the job.
This set includes a 30' hose, deluxe power nozzle, floor and dusting tools and a hose hanger rack. And, it's backed by a 3 year warranty. 
Th
e included hose
 fits both standard vacuum wall inlets (non-powered) with pigtail cord
or
 direct connect inlets (powered, 120 volt) without pigtail cord. It comes set up with pigtail cord, but we can change it to direct connect for you (at no extra cost). You can use this attachment set with most central vacuum systems.
Beam Attachment Set Deluxe Rugmaster Carpet and Bare Floor Accessory Set 012102 012244 012269 Capital Vacuum Raleigh Cary NC
Have questions? Call 1-800-662-8745 • M-F 10am-5pm, Sat 10am-3pm, EST
The best vacuum cleaners, central vacuums, carpet cleaners, steam cleaners, air purifiers, vacuum bags, filters, belts, parts, home fragrance products and cleaning supplies are at Capital Vacuum Floor-Care World 1666 North Market Drive in Raleigh NC (919) 878-8530 and 209 E Chatham Street in Cary NC (919) 467-2834. Family-owned since 1953. Be smart, buy where you get local service!