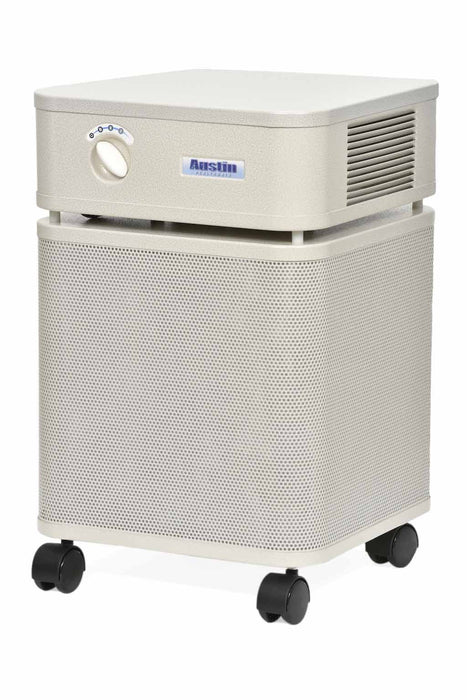 Austin Air Purifier HealthMate HM400 - Sandstone
Austin Air Purifier HealthMate HM400 - Sandstone is available at Capital Vacuum in our Raleigh or Cary stores, or we can deliver it direct to your door. 
Austin Air cleaners deliver a complete filtration solution, removing a wide variety of particles, sub-micron particles, chemicals, gases, micro-organisms and odors. This includes such things as dust, mold, pollen, tobacco smoke, chemical vapors, gases, viruses and bacteria.
The Austin Air Purifier has 60 sq. ft. of true medical grade HEPA filter material, certified to remove 99.97% of airborne particles 0.3 microns and larger, ideal for improving indoor air quality in areas with poor air conditions.

It contains 15 pounds of granular carbon and zeolite for the adsorption of odors, gases and chemicals found in smoke. Effectively cleans an area of 1500 sq. ft. (with normal ceiling heights). It can clean the air in an average bedroom in just 15-20 minutes.
Who should consider the Austin Air Healthmate HM400?
- Individuals with indoor air quality concerns
- Those with slight sensitivities to airborne particles, chemicals and gases
- Families looking for protection from every day indoor air pollutants
Benefits of Cleaner Air
- Sounder Sleep
- Reduced Snoring
- Stop Sneezing
- Reduce nighttime allergies & asthma attacks
- Strengthen your immune system
- Reduced coughing and wheezing
- Eliminate dry mouth and runny nose
- Efficiently removes a wide range of airborne pollutants and allergens, including dust, pollen, chemicals and gases
- Filters viruses and bacteria
360-Degree Progressive Filtering System
The HealthMate addresses the complete spectrum of air cleaning, removing sub-micron particles, noxious gases and chemicals. Austin Air's 360-degree intake system draws air into all sides of the HealthMate, passing it through a 4-stage filter. The result, more clean air delivered faster and more efficiently than any other air cleaner on the market.
Stage 1
Large Particle Pre-filter Removes particles easily seen by the (e.g.dust, hair and pet dander)
Stage 2
Medium Particle Pre-filter Removes small to medium size particles (e.g.molds, spores and pollen)
Stage 3
15 lbs. of Activated Carbon and Zeolite removes chemicals, gases and odours.
Stage 4
60 sq.ft.of Certified HEPA Removes 99.97% of all particles as small as 0.3 microns and 95% of particles 0.1 microns and larger, including pet dander, pollen, mold spores, dust mites, bacteria and viruses (MERV-17 Rating).
The included filter is designed to last up to five years in a residential setting.
Order now and breathe easier!
Have questions? Call 1-800-662-8745 • M-F 10am-5pm, Sat 10am-3pm, EST
Austin Air Purifier HealthMate HM400 - Sandstone Capital Vacuum Raleigh Cary NC
The best vacuum cleaners, central vacuums, carpet cleaners, steam cleaners, air purifiers, vacuum bags, filters, belts, parts, home fragrance products and cleaning supplies are at Capital Vacuum Floor-Care World 1666 North Market Drive in Raleigh NC (919) 878-8530 and 209 E Chatham Street in Cary NC (919) 467-2834. Family-owned since 1953. Be smart, buy where you get local service!