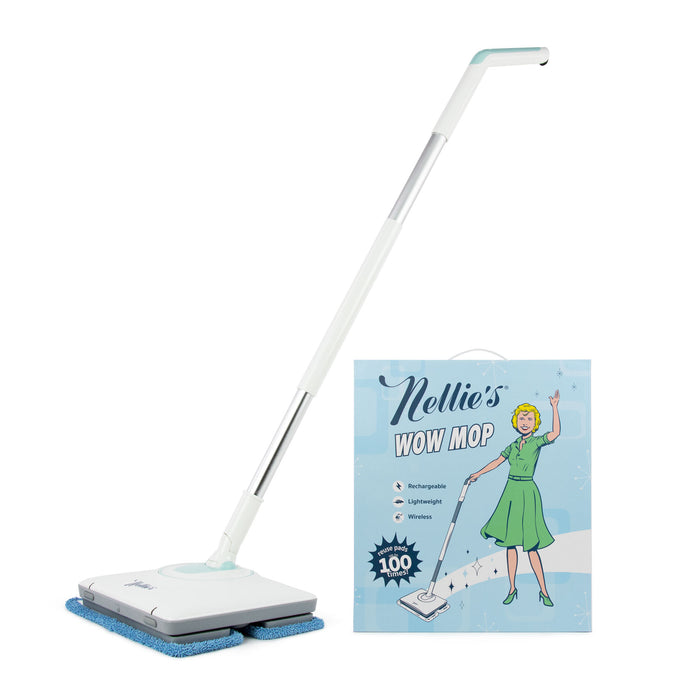 Nellie's WOW Mop Cordless Floor Cleaner
Nellie's WOW Mop Cordless Floor Cleaner is available at Capital Vacuum in our Raleigh and Cary NC stores, or we can deliver it direct to your door.
Who would've thought that you would ever look forward to mopping your floors? Nellie's WOW Mop makes cleaning your floors – dare we say it – enjoyable. Truth is, you might never want to stop!
Cordless, lightweight, and rechargeable, the WOW Mop is incredibly easy to use. Even grandma can do it! With high-frequency pads that oscillate 1000x per minute, the mop removes dirt and grime effortlessly. The WOW Mop comes with a pair of Nellie's WOW Wet Floor cleaning pads, which are eco-friendly, reusable, and machine washable.
The powerful motor delivers high-efficiency and thorough cleaning. Cleaning pad oscillation frequency moves up to 1000x/minute.
A joint on the base allows the handle to rotate from all angles, facilitating mopping. Cleaning underneath furniture has never been so easy.
Two LED lights illuminate dirt and stains. Convenient for cleaning under large furniture.
For best results, use a 1:3 ratio of Nellie's Floor Care Cleaner to water. Launder your cleaning pads with Nellie's Laundry Soda.
WHAT'S INCLUDED: A set of Nellie's WOW Wet Floor cleaning pads, measuring cup, charging cord, user manual.
Model: Nellie's WOW Mop Cordless Floor Cleaner
Have questions? Call
1-800-662-8745 
• M-F 10am-5pm, Sat 10am-3pm, EST
The best vacuum cleaners, central vacuums, carpet cleaners, steam cleaners, air purifiers, vacuum bags, filters, belts, parts, home fragrance products and cleaning supplies are at Capital Vacuum Floor-Care World 1666 North Market Drive in Raleigh NC (919) 878-8530 and 209 E Chatham Street in Cary NC (919) 467-2834. Family-owned since 1953. Be smart, buy where you get local service!