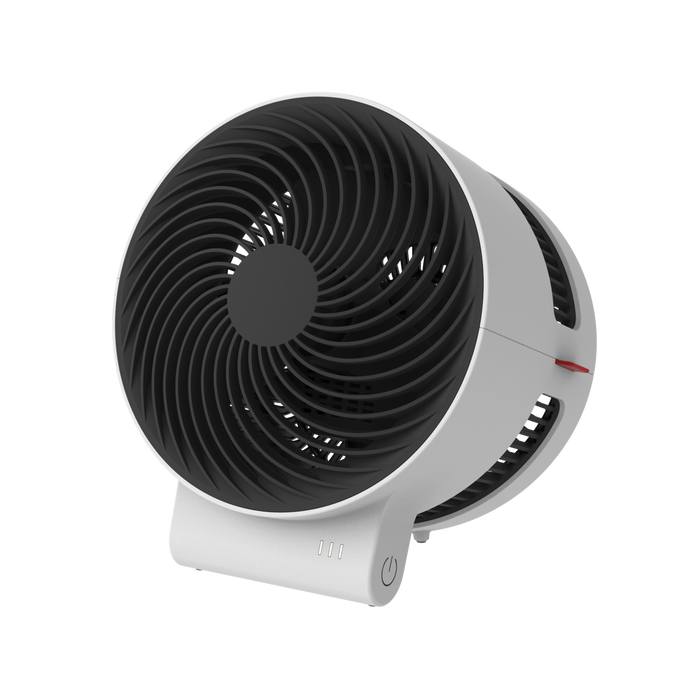 Boneco Air Shower Fan F100 Desktop Fan
Boneco Air Shower Fan F100 Desktop Fan - is available at Capital Vacuum in our Raleigh or Cary stores, or we can deliver it direct to your door. Create the perfect breeze.
The BONECO F100 is a compact, tabletop circulation fan. Use it at its highest level for the signature air shower feeling or at its lower levels if you prefer more direct cooling. This fan features 3-speed levels which are adjusted using the simple touch control and are indicated with LED lights. The elegantly shaped foot stand holds the unit firm and stable your tabletop or desktop.
Superior air circulation for signature natural air shower feeling
Simple touch control with 3-speed levels and LED indicators
Compact design, high output
Removable blade cover for easy and low maintenance
Swiss Design and engineering
Dimensions: 8"L x 8.2"W x 9.4"H
High Performance Swiss designed Fan for great air circulation in any room of your home.

The BONECO line of Air Shower Fans have been specially designed to move a greater volume of air and at faster speeds to create a powerful stream of air and achieve superb air circulation. This keeps the room's air in constant motion to create a shower of air all around you, disperse any hot or cold spots, and keep the entire room more comfortable.
Order now and feel the refreshing Boneco Air Shower breeze today!
Have questions? Call 1-800-662-8745 • M-F 10am-5pm, Sat 10am-3pm, EST
Boneco Air Shower Fan F100 Capital Vacuum Raleigh Cary NC
Model: F100 Item Number: 45984 UPC 834546001296
The best vacuum cleaners, central vacuums, carpet cleaners, steam cleaners, air purifiers, vacuum bags, filters, belts, parts, home fragrance products and cleaning supplies are at Capital Vacuum Floor-Care World 1666 North Market Drive in Raleigh NC (919) 878-8530 and 209 E Chatham Street in Cary NC (919) 467-2834. Family-owned since 1953. Be smart, buy where you get local service!