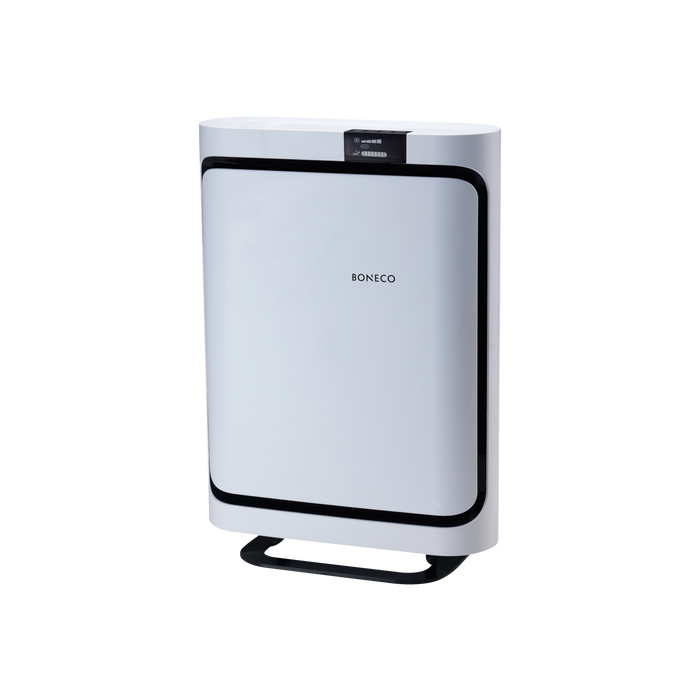 Boneco HEPA Air Purifier P500
Boneco HEPA Air Purifier P500 -
 is available at Capital Vacuum in our Raleigh or Cary stores, or we can deliver it direct to your door. 
The Boneco Air Purifier P500 is a true treasure. A Swiss designed HEPA air purifier that efficiently removes 99.97% allergens .3 microns and larger from your home or office. Three specialized, multi-stage filters act as active protective shields and trap the smallest particles in the air. The P500 comes standard with the ALLERGY filter. Its attractive award-winning design, matches any decor.
99.97% removal of .3 microns and 95% removal down to .03 microns
Red Dot Design Award Winner
High cleaning output: airflow up to 300 m3 per hour in CADR
Whisper-quiet in operation, ideal for rooms up to 45-55 m3
Easy handling with the remote control
Clear indication of the air quality in the living room
High Performance Swiss made Air Purifier for clean air in any room of your home.

Ideal for families with children, people with allergies, city dwellers and smokers
High cleaning output
Clear indication of the air quality in the living room
Easy operation with the remote control
Automatic operation function (AUTO MODE)
Energy-saving function (SLEEP MODE)
Extra-fast air purification (POWER MODE)
Reminder for filter change
Timer for setting operating times according to your preferences
Whisper-quiet in operation
Container for the use of fragrances
High-quality components with long service life
The P500 comes standard with the ALLERGY filter
Order now and breathe easier today!
Have questions? Call 1-800-662-8745 • M-F 10am-5pm, Sat 10am-3pm, EST
Boneco Air Purifier P500 Capital Vacuum Raleigh Cary NC
Model: P500 Item Number: 42321 UPC 834546000763
The best vacuum cleaners, central vacuums, carpet cleaners, steam cleaners, air purifiers, vacuum bags, filters, belts, parts, home fragrance products and cleaning supplies are at Capital Vacuum Floor-Care World 1666 North Market Drive in Raleigh NC (919) 878-8530 and 209 E Chatham Street in Cary NC (919) 467-2834. Family-owned since 1953. Be smart, buy where you get local service!