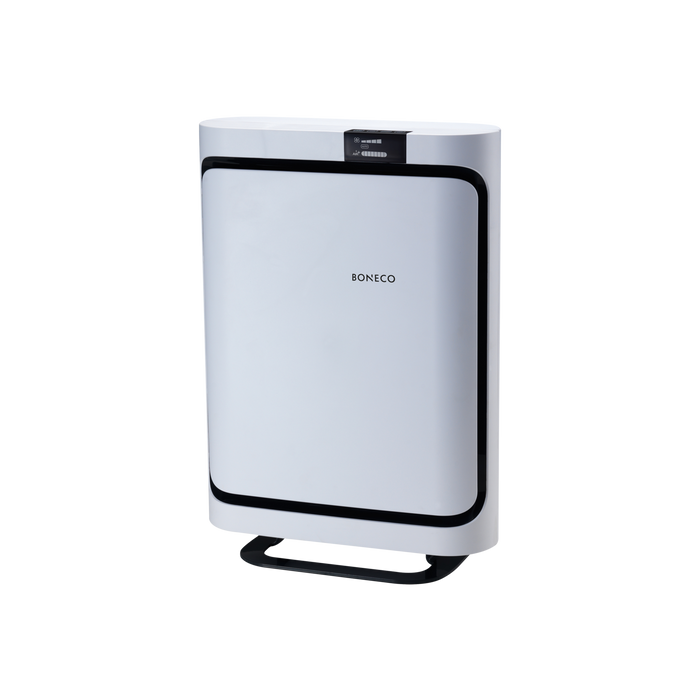 Boneco HEPA Air Purifier P400
Boneco HEPA Air Purifier P400 - is available at Capital Vacuum in our Raleigh or Cary stores, or we can deliver it direct to your door. 
The Boneco Air Purifier P400 gives you highly efficient air purification at home. Whether at home or the office, our special filter (HEPA and active carbon filters) removes smoke, allergens, pollen, viruses, dust, pet dander, dust mites and odors from the air. From a product family with an award-winning design language, the P400 will blend in effortlessly with your everyday surroundings – its quiet operation will never distract you.
99.97% removal of .3 microns and 95% removal down to .03 microns
Efficient air purification at the touch of a button
Immediate, natural help for people with allergies
Graceful, thin design for small rooms
Digital display with simple functions
Low power consumption
High Performance Swiss made Air Purifier for clean air in any room of your home.

Individual filter solution for every room and every need
Ideal for all smaller rooms: nursery or baby's room, bedroom, home office
Efficient cleaning output
4 fan level
Whisper-quiet operation at lowest output setting
Low power consumption
Fast, easy and intuitive operation
Digital display with simple functions
Reminder for filter change
Container for the use of fragrances
High-quality components with a long service life
Order now and breathe easier today!
Have questions? Call 1-800-662-8745 • M-F 10am-5pm, Sat 10am-3pm, EST
Boneco Air Purifier P400 Capital Vacuum Raleigh Cary NC
Model: P400 Item Number: 42437 UPC 834546000770
The best vacuum cleaners, central vacuums, carpet cleaners, steam cleaners, air purifiers, vacuum bags, filters, belts, parts, home fragrance products and cleaning supplies are at Capital Vacuum Floor-Care World 1666 North Market Drive in Raleigh NC (919) 878-8530 and 209 E Chatham Street in Cary NC (919) 467-2834. Family-owned since 1953. Be smart, buy where you get local service!